Lynden is recognizing employees who make a difference every day on the job and demonstrate our core values, Lynden's very own everyday heroes! Employees are nominated by managers and supervisors from all roles within the Lynden family of companies. Learn more about the people behind your shipment.

Introducing Mike Manley, Sales Account Manager at Canadian Lynden Transport in Calgary, Alberta.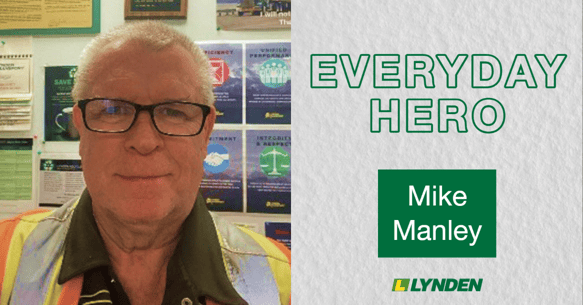 Name: Mike Manley

Company: Canadian Lynden Transport

Title: Sales Account Manager

On the Job Since: 2005

Superpower: Calm in the face of adversity

Hometown: Calgary

Favorite Movie: Firefly

Bucket List Destination: The Caribbean

For Fun: Visit family, golf

How did you start working for Canadian Lynden Transport? Have you worked for or done projects with other Lynden companies?
I have been in the trucking industry since 1985, I have done everything but drive trucks. In 2003 I spent one year in the U.S. working and living in Las Vegas then came home and was looking for a job, I was hired by Walter Rakiewich and Doc Willigar out of Edmonton. I also spent five years working on the Kearl Lake Project with Lynden Canada from 2011 to 2016.

What is a typical day like for you?
My official title is Sales Account Manager, however we are in a little different situation in Calgary as there are only two of us here, so not only do I have my sales duties but I also help out with operations doing billing, tracking, customs paperwork, loading and unloading trailers. I'm here between 7:30 and 8 a.m. and we can be here as late as 8 p.m. but we are generally done by 5 p.m. I have about a 30-minute commute one way.

What has been most challenging in your career?
Growing and adapting to the technology and learning the new systems.

What are you most proud of in your career?
Developing relationships both within the company and with our long-standing customers, as well as being part of the very successful Kearl Lake Project.

Can you tell us about your family and growing up years?
I'm the oldest of 9 children. I was born and grew up in Salt Lake City and moved around the U.S. until I was 12. My Dad went to Princeton University, then got a job at the University of Calgary and I have been in Calgary ever since. I enjoyed most sports, did some camping and enjoyed the outdoors while I was growing up.

What was your first job?
My first job was delivering newspapers. I had to get up at 5 a.m. and deliver them before school.

What would surprise most people about you?
I was a chocolatier for 10 years and had my own chocolate manufacturing business. The company was Renaissance Chocolates. We made a variety of chocolates and candies from peanut brittle to truffles. It was a family business. My uncle started Dilletante Chocolates in Seattle and he trained me. We had to decide to go big or sell it, so we sold it. I was young with no money so trucking it was.

How do you spend your time outside of work?
These days it's mostly with family or enjoying an occasional round of golf. I'm just a recreational golfer. I'm about a 20 handicap. I don't really do many tournaments; just like to get out with friends.

What do you like best about your job?
The company has always treated me well, and I really enjoy working with the other folks from around the different Lynden companies.
Topics from this blog: Lynden Employees Lynden Transport Everyday Heroes