Lynden is recognizing employees who make a difference every day on the job and demonstrate our core values, Lynden's very own everyday heroes! Employees are nominated by managers and supervisors from all roles within the Lynden family of companies. Learn more about the people behind your shipment.

Introducing Matthew Malmkar, Dispatcher at Brown Line in Mt. Vernon, Washington.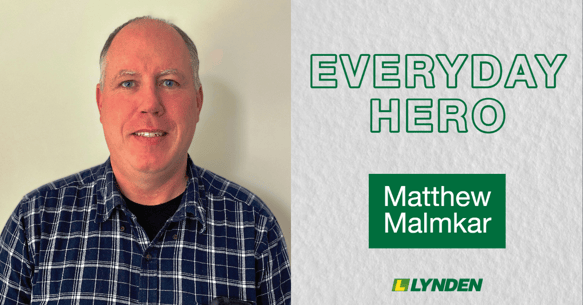 Name: Matthew Malmkar

Company: Brown Line

Title: Dispatcher

On the job since: 2016

Superpower: Seeing the big picture

Hometown: Grant, Nebraska

Favorite Movie: Star Wars: The Force Awakens

Bucket List Destination: The island of Madagascar

For Fun: Travel, following politics and finance, and playing poker at casinos

How did you start your career at Lynden?
After leaving the Navy in 2014, I earned my CDL and was looking for a new career. My brother Michael was a Brown Line driver for many years, and I started driving with him as a team in 2016. We drove together for four months and then a family medical situation required him to move back to Nebraska so he left the company. Together, we drove to Los Angeles, Houston and Alaska a few times for Brown Line. I kept driving locally and was then promoted to dispatch at the end of last year.

What is a typical day like for you?
I live 45 minutes away in Oak Harbor, WA, so I have a commute to work in Mount Vernon, but I don't mind because I am very proud of my waterfront property. My back yard is a state park with beautiful views of the water. I picked a job to be close to where I live.

My typical day varies. We are going through a big change to implement new software for our operating system so my hours are flexible these days. I often arrive about 10 a.m. and work until 8 p.m. I have sometimes needed to stay until 2 a.m. to take care of changes. It's a big hurdle for everyone here, so we are all pulling together.

What has been most challenging in your career?
In dispatch, we sometimes deal with urgent issues the minute we sit down to start the day. Dispatchers are often in the eye of the storm. It's always helpful to see things from the other person's perspective (driver or customer) and where they are coming from. It takes a whole team to do the work we do every day.

What is your military background?
I served in the United States Navy from 1993 to 2014. During that time I was deployed during Operation Iraqi Freedom and flew off an aircraft carrier in S3B Vikings aircraft. I started in the military as an enlisted and retired as an officer. I earned my pilot's license while in the military.

What are you most proud of in your career?
I received the Driver of the Month and Driver of the Year Awards for Brown Line and am very proud of that. I also have been asked to train other employees, which is a privilege. Brown Line management promoted me from driver to dispatcher last year. It was, and still is, my plan to move up the ladder and into operations here.

Can you tell us about your family and growing up years?
I was born in a small town in Nebraska. I am the oldest of three. I have a younger brother and sister and my parents live with me in Oak Harbor. I'm single with a 23-year old daughter. She just finished college at Western Washington University in Bellingham and still lives there.

What was your first job?
I refueled planes at a dirt airstrip in Nebraska. I have always been interested in aviation.

What would surprise most people about you?
I am pretty good at poker and have made a lot of money playing in casinos. I just returned from a trip to New Zealand and Australia. In my 20-year military career I have flown over a lot of countries and was stationed in Japan for six months. One place I haven't visited is South America. I would love to see Argentina and Brazil.

How do you spend your time outside of work?
I like to play games. I have played a lot of poker at casinos over the years and have made a profit the past two years from my games, but I don't play that much anymore.

One of my goals is to have a tranquil balance of life and work. There is always stress, but you have to know your limits and when you are running low on reserves and nearing burnout. If you are facing an obstacle, you have to keep the faith that you can make it up to and past the peak and over to the other side.

What do you like best about your job?
The challenge of trying to keep the loads and drivers going where they need to go. I have been a driver myself, so I think I make a pretty good dispatcher. My experience with the military helps, too. Organization and communication are key in my past role in the Navy and my new role in dispatch at Brown Line.
Topics from this blog: Lynden Employees Brown Line Everyday Heroes