Lynden is recognizing employees who make a difference every day on the job and demonstrate our core values, Lynden's very own everyday heroes! Employees are nominated by managers and supervisors from all roles within the Lynden family of companies. Learn more about the people behind your shipment.

Introducing Took Laraux, Captain at Bering Marine in Bethel, Alaska.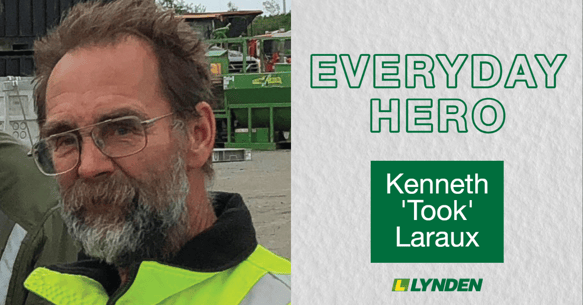 Name: Kenneth 'Took' Laraux

Company: Bering Marine Corporation

Title: Captain

On the job since: 1997

Superpower: Reading the river

Hometown: Bethel, AK

Bucket List Destination: Anywhere where there are more animals than people

For Fun: Fishing and hunting

How did you start your career at Lynden?
My dad, Butch, owned United Transportation with some partners and delivered fuel and freight on the Kuskokwim River. In the mid-1980s Crowley bought the company. I ran my own barge for awhile, the Elsie-M. It is a 66-foot landing craft that my son Gux now owns. I started working for Bering Marine in 1997. I have worked for Bering Marine, the hovercraft operation, Knik, Alaska Marine Lines, Alaska Marine Trucking and other companies along the Kuskokwim River in Alaska and other places. My son, Gux, works for Bering Marine, too. He is in charge of the hovercraft operation.

What is a typical day like for you?
I go pretty much nonstop with the tug and barge from April to late October. In the winter season I help my son with the hovercraft. There are so many different things happening in the Kuskokwim area that I may be working on projects for Knik or other companies week to week. I am not just the captain on the Arctic Gull tug but am also the engineer and deckhand depending on what is needed at the time. I can operate cranes or other kinds of equipment if help is needed loading barges.

What has been most challenging in your career?
Weather and keeping equipment running. Also staying on time with marine schedules and dealing with tides, wind and the water level on the river.

What changes have you seen over the years, either in business, equipment, customers or technology? Better equipment that makes it less likely to break down or need as much maintenance.

What project are you most proud of?
I have been told that I have hauled more aggregate (rock) down the Kuskokwim River to Bethel and other Knik job locations than any other vessel captain. I am pretty good at navigating uncharted water on the river. I can repair equipment if needed and get it back up and running so there is no lost time at a job site. I try to think of the most efficient way of getting a job done. I like to get the assignment, talk about options and then get it done ahead of schedule.

Can you tell us about your growing up years?
I was born in Bethel. I have five brothers and sisters. My wife and I have three sons and two daughters. I did some commercial fishing on the Kuskokwim and Yukon Rivers starting in the 1970s and also some trapping over the years.

What would surprise most people about you?
I got my nickname of 'Took' by riding on tugboats with my father. The motor made a 'took, took' sound and I would make that sound as a little boy. It stuck and now I am known more by Took than my given name of Kenneth.

How do you spend your time outside of work?
I fish for salmon and hunt for moose and caribou. Every winter I go into the woods and cut firewood to give to elders in the community of Bethel and surrounding villages on the coast. I also hunt for them so they have food during the winter months, usually caribou. I have a lot of snow machines and sometimes make sleds to tow behind them. Spend some time woodworking, too.
Topics from this blog: Bering Marine Corporation Lynden Employees Everyday Heroes