Lynden is recognizing employees who make a difference every day on the job and demonstrate our core values, Lynden's very own everyday heroes! Employees are nominated by managers and supervisors from all roles within the Lynden family of companies. Learn more about the people behind your shipment.

Introducing Kendra McPhail, Customer Service Representative at Lynden Air Cargo in Anchorage, Alaska.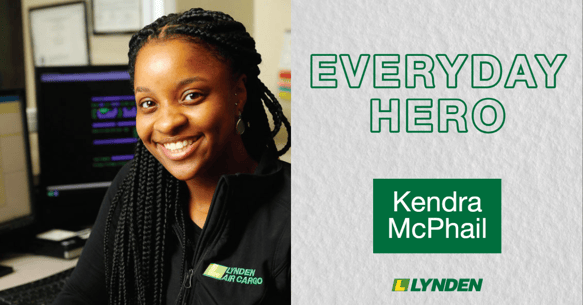 Name: Kendra McPhail

Company: Lynden Air Cargo

Title: Customer Service Representative

On the job since: 2018

Superpower: Positive force for change

Hometown: Palmer, Alaska

Favorite Movie: The Great Debaters

Bucket List Destination: Maldives

For Fun: Travel in state and outside the country, study the bible, and spend time with family and loved ones.

How did you start your career with Lynden?
I graduated from Fisk University in Nashville in 2017. I have a degree in political science, although I do not want to go into politics! After college, I thought I had a plan in place to further my education at another school in a master's program, but life doesn't always pan out the way you thought it would, so I came back home to Alaska. I applied for jobs, but they usually told me I was over-qualified or it wasn't the right fit. We had a family friend who works for the railroad and he does business with Lynden Logistics. He told me Lynden was hiring. I applied on a Sunday, got a call on a Tuesday, had an interview later that week and started the following Monday in customer service. That was where I met Carly (Fielding) and Adam (Murray). I am a firm believer in being 15 to 20 minutes early so I showed up early for my interview. I think that made a good impression.

Tell us about your job.
It's a very interesting job assisting customers every day. There are so many things that come through our door – we transport dogs, goats and horses. It's hunting season, so we have backhauls from the villages like St. Mary's. People hunt there and send the meat back to their families in Anchorage or Fairbanks. We keep the meat chilled or frozen for them.

From the time I started to now, a lot has changed. We have revamped our backhaul processes to make the system more accurate, accountable and streamlined. The changes will go a long way toward providing better service to our customers and creating efficiencies within our operation. I created a list of procedures for the backhaul process that is allowing everyone to get a better handle on it.

What is your favorite or most rewarding part of your job?
Taking on new challenges and a feeling of being able to meet that challenge to a certain degree of satisfaction. I like to not just meet challenges, but exceed challenges. I like a little competition. You are giving me a task? Don't worry. I can handle it.

I've also had the privilege of attending trade shows representing Lynden Air Cargo. We just went to one at the University of Alaska Anchorage at the student athletic center for the Native Youth Olympics. We gave out swag and told them about our services and where we fly. I also did another trade show at the Sheraton in Anchorage with other employees from Lynden companies. And I will be attending a conference on diversity with colleague Emily Taylor.

What is a typical day like?
I work 11 a.m. to 7 p.m. No day is ever the same. When I come in the door I never know what I am walking into. I like that because it keeps it interesting. I also get to interact with different operations people like the warehouse crew. When I clock in at 11, I channel what everyone is doing or where they need support. After catching up on emails, I go around and ask if there is anything that needs to be done, whether that's a flight that needs to be closed, filing, answering emails, meeting with accounting to find missing paperwork, maybe a signature is missing somewhere. Most days of the week we have almost 24-hour coverage so my coworkers work staggered shifts with me.

What has been most challenging?
In customer service, people can be tough. You will always encounter people that won't be the most pleasant. I try to let it roll off and rise to the next level. You cannot take everything personally. I've had to learn that in my role here. My tactic is to kill them with kindness and roll with the punches.

Can you tell us about your family and growing up years?
I was born in Palmer and attended Pioneer Peak Elementary and Colony Middle and High Schools. I graduated in 2013. I have a younger brother who is 19 and in college and an older sister who is 27 and working in Washington, DC. My parents still live in Palmer. Both of my parents are educators. My dad was the director of education and instruction for the district and moved on to be a principal at a school called Pace which offers an alternate educational experience for the children in the Mat-Su Borough School District. My mom is in her 21st year of teaching and is working on her PhD.

When I was in middle and high school I was a member of the track team. I ran the 400, 200 and 4x1 and 4x4 relays. In middle school I did hurdles, but not in high school. I fell a few times and decided that was it! I also participated in cross country skiing and cross country running in high school. So I ran cross country in the fall, skied in the winter and did track and field in the spring.

Besides sports, I was on the student advisory board for the curriculum counsel, so I met with the instruction department and teachers and went over the curriculum for the entire school district. I was also the student representative for the school board and attended those meetings to update them on what was happening at our high school.

What would surprise most people about you?
When I was growing up, my mom would always tell people, 'be careful, she likes to talk.' Now she is saying that my gift of gab is being used to my advantage in my job as a customer service representative.

I like to recite poetry. I took poetry classes in high school and competed in a competition called Poetry Out Loud. You memorize poems and perform them in front of judges. I recited Maya Angelous' Phenomenal Woman. I went to districts and also participated in speech competitions when I was in elementary school.

How do you spend your time outside of work?
I like to be outside walking in the mountains being adventurous. I'm an adrenaline junkie. I go zip lining, go to see waterfalls and try to spend my time doing exciting things. I believe that life is short and tomorrow's not promised. I live my life to the fullest and do the things that I love. I attend New Hope Baptist Church in Anchorage and am heavily involved in choir and other activities. I also play softball in a league representing Lynden. I like to hang out with friends, go out to eat, spend time at church, listen to poetry and recite poetry. I recited a poem in January at a Martin Luther King Jr event in Anchorage.

What are your thoughts about working for Lynden Air Cargo?
I have been afforded many opportunities to grow and elevate myself by going to different trade shows and I'm finding out things that I didn't know that I really enjoy doing. I've been able to dig into the sales and marketing side of things and talk with managers about certain ideas I have to make improvements and differentiate Lynden from other companies. I really enjoy the logistics side of the business. My goal is to earn a master's degree while still at Lynden and apply those benefits to my current job. I also had an opportunity to go to fishing with co-workers and meet some of the customers I work with. I caught a lot of fish and had a chance to engage with our customers in an informal setting. Getting to know them on a personal level helped me ask questions like 'what do you think about our service and what can we do better?' It was something completely new for me and a great way to interact with the customers we serve.
Topics from this blog: Lynden Air Cargo Lynden Employees Everyday Heroes