Lynden is recognizing employees who make a difference every day on the job and demonstrate our core values, Lynden's very own everyday heroes! Employees are nominated by managers and supervisors from all roles within the Lynden family of companies. Learn more about the people behind your shipment.

Introducing Joy Mendes, Customer Service Training Coordinator at Alaska Marine Lines in Seattle.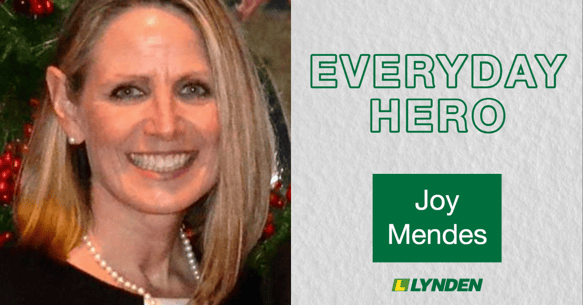 Name: Joy Mendes

Company: Alaska Marine Lines

Title: Customer Service Training Coordinator

On the Job Since: 1988

Superpower: Sunny disposition

Hometown: Ann Arbor, MI

Favorite Movie: Grease

Bucket List Destination: Azores Islands, Portugal

For Fun: Baking, Antiquing, Running

How did you start your career in transportation?
I took an office procedures course in high school and my teacher knew I was headed to a job after graduation, not college. With my family situation, college was not an option for me at that time. She got a call from a manager at Pacific Western Barge Lines. They said they were looking for someone and she would put the job lead information with my diploma so I would have it when I picked it up after graduation. I called Pacific Western on a Monday, interviewed and started the next Monday as a receptionist. I was in the barge business two weeks out of high school. Within a couple of months, I moved into billing to fill an opening. (Lynden Executive Vice President) Alex McKallor and I shared an office. Alex was a billing clerk. He would write the freight bills out by hand and I would type them on a 4-carbon copy freight bill.

What do you remember most about those early years in the business?
I was working at Pacific Western Lines in Seattle for two years when I met my husband, Daniel Mendes, who worked in the Anchorage office. Jim Warner was the Anchorage manager then and he would often come to Seattle. I got to know him well. He told Dan about me and sent him down to Seattle to teach our crews about the proper handling and shipping of drywall, but also, apparently, to meet me. Jim sent him in to meet me but I was the on the phone and didn't get a chance to talk to him. I was 20. He was 24. The next time I saw Jim he said "I only have one thing to say to you: You should marry Dan Mendes and you should take a trip to Anchorage." I went to Anchorage and took a position there when it opened up. I also ended up marrying Dan! While working in Anchorage I also had the opportunity to become the claims manager and the dispatcher for the company.

What has your career progression been?
Alaska Marine Lines purchased Pacific Western Lines in 1985. Dan and I were the last employees to close the Anchorage office. That's when we first met Jim Jansen. He came up to shut down the facility. Jim was very respectful and kind to us, despite the circumstances. I told Dan that Jim was a person I would definitely work for.

After that I did some freelance work, worked for Alaska Cargo Transport (which later was bought by Northland) and then the old Northland. I stayed in Anchorage one year longer and then moved back to Seattle where I started working for Alaska Marine Lines as a billing and receiving clerk and moved up to accounting, became the accounts receivable manager, then billing manager. I am now a training coordinator in customer service and I love it. I get a chance to travel around the system training our new employees one-on-one. We service more places than we ever did. There is so much more to know than in the old days.

What is a typical day like for you?
Busy. We answer a lot of questions about how to send household goods to Alaska or how to get a car or a huge piece of machinery shipped. We have customers who know their way around the process and those that are brand new to it and need some hand-holding. I am answering emails, answering the phone and often going out to the dock to check on a shipment. The other day something was routed for Skagway, but the customer needed it changed to Petersburg so we were working on a new bill of lading and a re-route.

What has been most challenging in your career?
When something goes wrong and we disappoint a customer. When they need it and they don't have it and we can't fix it fast enough. We will make mistakes sometimes – every company does. When you are personally talking to them, you are the face of the company, even if it was not your mistake. That is the most challenging for me.

What changes have you seen over the years?
It is the age of instant gratification and people are in a hurry. Sometimes we need to remind them that a barge can be delayed by weather or just because it has arrived it doesn't mean they can instantly access their freight. We still need to unload containers from the barge and then unload the containers. They have more information now so expectations are higher.

Can you tell us about your family?
I have two children, daughter Ashley and son Alex. Ashley lives in Renton, WA. We just welcomed our fourth grandchild in September. My son Alex is going to college in upstate New York. I am the youngest of three kids who grew up in Michigan but moved to the Seattle area at age 14. Both of my children have hearing loss. My daughter and her whole family is deaf, and my son is hard of hearing, which has made our life that much more complex and rich. Every day isn't perfect but you need to create happiness where you are. If you look outward and help others, your life is amazing.

What would surprise most people about you?
I ran my first marathon at age 40 when my son was in ninth grade. I have now run seven full marathons (26.2 miles) and countless half-marathons with my husband Dan. I qualified for Boston and ran in that race three times and also qualified for and ran in the New York City Marathon. I also won first place in my age group once at a smaller marathon. My best times were a 3:38 marathon and a 1:38 half marathon. I am also quite shy. I dislike crowds and parties. Although I have people over to my house a lot, I am focused on the job of entertaining so conversation comes easier to me as I'm helping others.

How do you spend your time outside of work?
My husband and I bought a 960-square-foot house in West Seattle five years ago. We lived in it for a while, then tore it down three years ago and are rebuilding it from the ground up as a much larger American Four Square style. We are keeping the design authentic to 1924, but with modern updates. We have purchased period lighting fixtures and push-button switches from an antique dealer in Port Townsend and hired a painter who has put in more than 2,000 hours giving it a vintage look. The best compliment for us is when someone in the neighborhood thinks it is an original home from 95 years ago.

What are your thoughts about working for Lynden and being a part of Alaska Marine Lines?
I enjoy working for a company and with employees with a strong work ethic. As a trainer of new employees I tell them that you need to care about what you do and always go the extra mile. It all comes back to you. If you are willing to recheck the freight that doesn't look quite right, or call someone when you think there is a problem, it will pay dividends for your own career and the future of the company. We all need to care. Adopt an attitude that the buck stops with you. Don't pass the buck.
Topics from this blog: Lynden Employees Everyday Heroes AML