Lynden is recognizing employees who make a difference every day on the job and demonstrate our core values, Lynden's very own everyday heroes! Employees are nominated by managers and supervisors from all roles within the Lynden family of companies. Learn more about the people behind your shipment.

Introducing Jeff McKenney, Account Manager at Alaska Marine Lines in Seattle, Washington.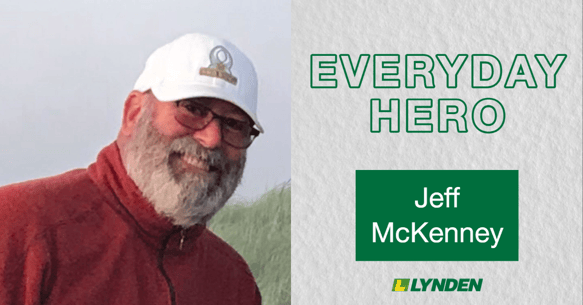 Name: Jeff McKenney

Company: Alaska Marine Lines

Title: Account Manager

On the job since: 1988

Superpower: Using past experience to solve problems

Hometown: Oceanside, CA

Favorite Movie: Top Gun

Bucket List Destination: Seeing the U.S. via RV and a return trip to the Grand Canyon

For Fun: Boating, attending Seattle sports events, remodeling the house

How did you start your career at Alaska Marine Lines?
When I started my relationship with Lynden, I was a warehouseman and driver for a small freight company. That company unfortunately went out of business, so the saying, "when one door closes another one opens," was an opportunity for me to look forward. I decided to purchase my own truck and was successful in keeping Southeast Alaska Barge Lines Line (SEABL) as a customer. My hard work, dedication and relationship with the people I worked with at SEABL offered me a chance to continue the career I enjoyed. I also began working nights and weekends for SEABL doing all the different jobs that Alaska Marine Lines provides today. Earlier in my career, I had worked with Western Towboat as a deckhand on the tug during the winter months. For those of you who remember, SEABL only operated one barge every two weeks to the one port of Juneau. Working on the tug gave me the opportunity to learn another facet of the marine transportation business. I am grateful to this day.

A few years after starting my business, Lynden purchased SEABL and changed the name to Alaska Marine Lines. I was again successful and fortunate to retain Alaska Marine Lines as my customer. After 13 years of owning my business, I had an opportunity to take a full time position with Alaska Marine Lines to dispatch and manage the trucks and operators that were operating just as I once did. I held that position for four years when a sales position opened in Seattle. I thought it was the right time to advance my career and use the knowledge I had learned over the years to sell the services Alaska Marine Lines offered. After my interviews with Kevin Anderson and other management, Kevin called me and said, "I have some bad news and some good news." He said the bad news was the Seattle position was filled. He then said they had a sales position open in Juneau and that position was mine if I wanted to move to Juneau. That was a big decision I needed to discuss with my family. The family agreed that we would all move. I called Kevin with the decision. He stopped me before I could say anything more and said, "I have some bad news and some good news." At that moment, I could feel this heavy cloud come over me and wanted to turn and walk away. But I had to hear the final words and it started: "I've filled the Juneau sales position." That confirmed my worst nightmare. But then another door opened, when he said that the Seattle sales position was open and it was mine if I wanted it. I accepted the position and was able to continue to work with the people who were my friends and colleagues here and keep my family where we really wanted to be.

What is a typical day like for you?
A typical day for me is corresponding with customers, their affiliates, and with Lynden colleagues either in person, on the phone, or through email. As an account manager, my job is to look for freight opportunities including new and existing business. New business would involve customers you've never talked to and existing business would be current customers you already work with in the hopes of expanding that business.

Unfortunately, the world we knew has been changed by Covid-19. Prior to Covid, my job was to be in front of the customer and building relationships. Since Covid, I still have to be there for the customer using other means of communication, either through more telecommunications, email or by other social media tools.

One of your best assets for being in sales is your ability to listen and show compassion. A customer wants to know that you take their business seriously. Then offering options to best suit their needs while making it beneficial for Lynden.

That is where Alaska Marine Lines and all the Lynden companies have made my job so much more fun. Our abilities to be innovative through equipment design, schedules, and online tools offers so much to the customer compared to our competition. The fact that we can pull multiple Lynden operating companies together to offer the customer a One Lynden solution has a lot of merit.

What has been most challenging in your career?
I've been fortunate to have worked in both operations and in sales. They are very different but having the operations background has definitely been a positive in my sales career. Operations is black and white. Meaning you make decisions, right or wrong, and learn from the mistakes. Sales has always been more of a gray area. You still learn from your mistakes but there is always the unknown and uncertainty of whether or not you've secured the business. You work at creating and maintaining relationships and try to educate your customers on the features and benefits that Lynden provides. But once they finally sign on the dotted line or begin moving that first shipment with you, then you feel successful of your achievements and proud of all the hard work you've put forth. Now, your focus is to keep that business and hopefully ship a second and a third and continue to build the business you've created.

What are you most proud of in your career?
Being able to share my life and experiences with the people at Lynden and their affiliates who I've been associated with over the years. Many of these people have already retired and I look forward to joining them in the next chapter of my life. My customers have become my friends and I look forward to continuing those friendships.

I'm proud of the challenges I've had to overcome and, more importantly, proud of the people around me who have helped me along the way. I've grown through adversity and hard work. I've enjoyed good times and suffered through some hard times but have learned through the process to become better. Lynden has been a great company to be part of. I'm very fortunate to be a part of this family and have appreciated all that they have done to support me and my wife and kids.

Can you tell us about your family and growing up years?
My two brothers were 9 and 10 years older than I was. My parents always told me I was the planned one! My dad was a gunnery sergeant in the Marine Corp at Camp Pendleton in Oceanside, CA and retired after 22 years. After his retirement, we moved to Lincoln, NB when I was 3, then moved to Salem, OR for two years and then moved up to Washington. I have lived here ever since in various cities around the greater Seattle area.

When I was 6 or 7 years old, my parents bought me a Tumbler Pigeon from the Oregon State Fair. Raising the pigeon taught me a lot of responsibility just like owning any pet would. Remember the part my dad was a "gunny" in the Marine Corp? He made sure I did my duty!

So I took care of that bird from the time I lived in Salem, OR until we moved to Washington. Then in middle school, I got into pigeons again. I started with the fancy varieties like the Tumblers, Fan Tails and Helmut pigeons. I began breeding the birds and selling them to pet stores. I later changed my focus from fancy pigeons to homing pigeons and got into racing them in between high school sports of baseball, football and wrestling.

I met my wife Lisa 41 years ago, and we've been married for 38 years. We met at an under 21 dance club on Mercer Island called "Tonight's the Night." I remember her standing next to the wall on the outskirts of the dance floor talking to her friends. She had very short hair that was styled in this asymmetrical fashion which was different from all the other girls. I went up and asked her to dance. I put my best John Travolta moves forward and we really hit it off, or so I thought. When I asked her for her number, she said "No, I don't give out my number," but then she said she would take my number. I thought it would be the last I would hear from her. To my surprise, I was fortunate to get a call from her early the next day, and we made plans to go to the Woodland Park Zoo.

She has been my best friend ever since. She is my rock and my soul mate and one of the smartest women I know. I've been so lucky to have this lady in my life for this long.

We have two daughters; Ashlee, 32, and Briana, 28. I am so proud of these girls. They have been a joy. I only had brothers so having girls was a new experience each and every day. As young girls they're always looking up to you for guidance. You do what you can to protect them from the world, but you have to eventually let them find their own way. They are both intelligent, strong and independent women that also very patient and caring. Definitely their mother's qualities.

What was your first job?
My very first job was a paper route as a young kid. It was waking up early every morning to stuff papers with leaflets, then fold and roll them to apply a rubber band. Then place them in an organized fashion inside your bag so when you rode your bike past the house, you could easily grab them from your bag to toss them toward the front door. Yes, some did end up in the bushes early in the route till you got your rhythm.

My first job as an adult was working in a Pet Store in Bellevue, WA. We always had dogs growing up and whatever reptiles I could catch. Also the pigeons that I had in my life kind of set me up for working at a pet store. Taking care of weird and exotic animals was right up my alley and one of the most fun jobs I ever had.

What would surprise most people about you?
After graduating from high school in 1977, I worked at the "Hat and Boots" fuel station located on East Marginal Way and Corson Avenue in Seattle. The big cowboy hat was the office and the pair of boots was the restrooms. It became a historical site and they eventually moved both structures to some other location to preserve its history. It was there that I really began my transportation career. As the fuel attendant I created relationships with the drivers who came in to have their trucks and cars fueled. Yes, back then the attendant did the fueling. Because of those relationships, I was then able to find a position with an air freight company. I would drive large van trucks called Hoopie trucks all day to pick up and deliver freight and then go back to the warehouse to load containers called LD3 and M1. These containers would be delivered on tractor/flatbed combinations to the airport to be placed on planes and positioned around the Lower 48. This career is what led me to Lynden.

How do you spend your time outside of work?
My parents always had boats and I grew up boating with them year-round in the San Juans and Gulf Islands. Back then, the Islands were a lot less inhabited. I continued that with my wife and kids throughout their childhood on 24' – 35' boats of various types.

I used to take family and friends out for day trips or for weekends and vacations up to the islands to fish and hike. That was always my passion. Now, I enjoy remodeling and building around my house. The first home I purchased was in Bellevue, WA. We lived there 15 years and had both our girls in that home. We bought our second home 22 years ago and we still live there. I love fishing and I have done some bird hunting. I am a big Seattle sports fan and enjoy going to sports events. Now it is taking my RV and traveling around to new sites. I have a 12' aluminum boat to satisfy my need for the water. If I could talk my wife into it, I wouldn't mind getting another boat and maybe living aboard. I also love to cook, and I love to eat even more.

What do you like best about your job?
I love the challenge. I like being able to provide the customer with a positive experience, show customers what Lynden can do and being part of Lynden's success.
Topics from this blog: Lynden Employees Everyday Heroes AML