Lynden is recognizing employees who make a difference every day on the job and demonstrate our core values, Lynden's very own everyday heroes! Employees are nominated by managers and supervisors from all roles within the Lynden family of companies. Learn more about the people behind your shipment.

Introducing Fred Austin, an icon at Lynden Transport in Alaska.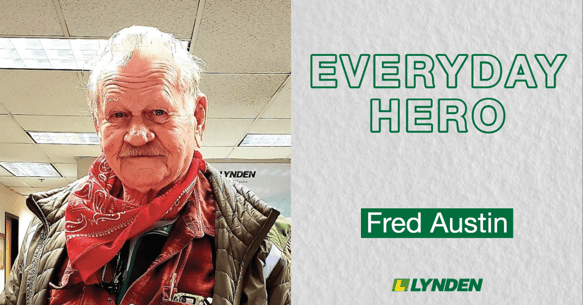 Name: Fred Austin

Company: Lynden Transport

Titles: Driver, Trainer and Instructor

On the job since: 1975

Superpower: Mentoring

Hometown: Gig Harbor, WA

Favorite Movie: South Pacific

Bucket List Destination: Antarctica

For Fun: Spending quiet time with his bride after raising 34 foster kids

Icon of the Alcan
"To really understand Fred Austin, talk to the drivers, dispatchers and our friends on the road system," says Lynden Chairman Jim Jansen. "They share my description of this 'Icon of the Alcan' – a kind and thoughtful gentleman, loved by us all, who has professionally served Lynden and its customers, safely and efficiently, for over 40 years. Hopefully Fred will continue as a Lynden Everyday Hero for many more."

If you don't know Fred Austin, you have probably heard of him. His trademark red bandana, his ability to spin a humorous story and those twinkling blue eyes make the 85-year-old professional driver a legend on on the road.

Fred came to work for Lynden in 1975 at the start of pipeline construction in Fairbanks. He wanted to own a truck to operate for Lynden but could not afford one. "We sold him tractor 118 real cheap, the lemon of the fleet, which did him no favors," Jim remembers. Fred kept the 1969 Peterbilt operating reliably in spite of its reputation.

Fred's love of machines with big engines began early. "I started young, about 10 years old, running a small John Deere dozer on my dad's farm," he says. At 18, he started learning to drive truck – hauling logs in a 1942 GMC GI in the mountains near Mt. Rainier. "I got in on the last of the big gas engines – 200 horse – on the logging roads, getting about 3 miles a gallon on the highway." Operating heavy equipment and driving trucks was the perfect job for Fred who says "I was always looking for larger and louder equipment and more smoke. As the guys I work with tell me, the call of the throttle got me."

In 1957, Fred joined the U.S. Navy and continued his driving career for Uncle Sam. "I was licensed to drive everything on wheels during my four years," he remembers. After his military career, it was back to the big machines. "My base for instructing at Lynden is my experience operating heavy equipment and driving log trucks," he explains.

In the mid-70s, Fred switched to lowboy trailers and LTL hauls for Lynden Transport. At this time, Fred and his wife Margery were busy raising six children plus four foster children. "The kids were mostly teenagers and they were eating a big pile of groceries," he says. "I took some side jobs as an owner-operator to keep the groceries coming during a bit of a slowdown at Lynden, but always stayed in contact with line dispatch. When work picked up at Lynden, I was under the green flag again."

During the pipeline construction many competing companies tried to lure Lynden drivers away with promises of higher salaries. "I always thought long-term and stayed with Lynden, and my decision proved correct. And here I am today!"

In addition to driving, Fred dispatched several years ago, and now serves as driver trainer and mentor while continuing to operate between Fairbanks and Beaver Creek, earning the respect of new drivers and veterans. In 2015, at age 79, he took the state test for Methods of Instruction Training and passed. He is the oldest person to sit for the test and continues to inspire and entertain students and instructors at the Lynden Training Center in Fairbanks.

Fred's stories were hard-earned while driving for Lynden. Retired Lynden Transport President Jim Beck remembers Fred's first trip from Beaver Creek. "The drive line in his tractor broke. He camped next to the truck for several days and made a new drive line out of a tree limb to complete the trip to Fairbanks," he says. "Fred is one of the finest drivers and gentleman you could ever meet."

Fairbanks Service Center Manager Darren Stansbury concurs. "Fred is an asset to the company and a true leader. No matter the situation Fred has a can-do attitude."

Fred feels it is his duty to pass on his knowledge and experience. "If I drive another million miles it will make no difference in this world, but if I can train someone to do the right thing and not get hurt, then I can make a difference in their life and the life of their family," he says.
Topics from this blog: Lynden Employees Lynden Transport Everyday Heroes