Lynden is recognizing employees who make a difference every day on the job and demonstrate our core values, Lynden's very own everyday heroes! Employees are nominated by managers and supervisors from all roles within the Lynden family of companies. Learn more about the people behind your shipment.

Introducing David Burgess, Driver at LTI, Inc. in Lynden, WA.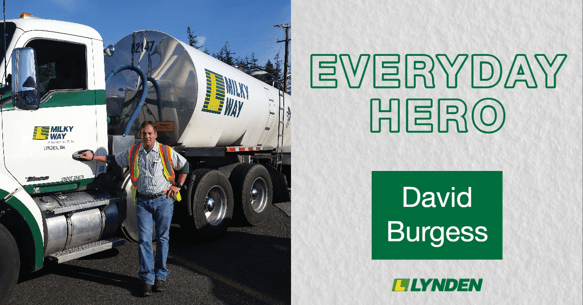 Name: David Burgess

Company: LTI, Inc./Milky Way

Title: Driver

On the job since: 1974

Superpower: A driving force for 41 years

Hometown: Bellingham, WA

Favorite Movie: Chinatown

Bucket List Destination: Europe by train

For Fun: Skiing, hiking, watching Seahawks football

How did you start your career at Lynden?
I started washing trucks at age 17 in Lynden, WA. Some of them had come back from Alaska and they were caked with mud, especially underneath. We had to blast that stuff off with a high-pressure hose. Then we advanced to a wash rack for the trucks to drive through. I drove trucks around the yard and up to the Canadian border here and there. Back in those days, in the 1970s, I received a waiver from LTI, Inc. instead of a Commercial Driver's License (CDL) because of my time behind the wheel. The hauls were seasonal so I worked six months in the summer, and I was laid off every winter.

What do you remember most about those early years in the business?
I remember Hank Jansen, Lynden's founder, being around when I started. The other day I saw the house that was the office for LTI for many years. It was moved and someone is now living in it. I started out on the freight board, hauling just about anything, from 1978 to 1982. Then I was transferred to the milk board with several other drivers to replace retiring milk drivers. The transfers were by seniority and I started with Whatcom County farm pickup. It was a nice change from delivering freight. There is more involved with dairy pickup and it makes it more interesting to see the farmers every day. I also spent five years hauling molten sulphur for LTI, Inc.

What do you like most about your job?
I enjoy seeing the same folks every day. You get to know your customers really well; all the farmers at the dairies. Although they aren't usually up when I get there during my first stops, I see them later in the day. I also like being outside to enjoy the landscape, the water and the mountains. Even the rain. Sometimes I can't believe my ancestors settled here in this gray, dark climate, but it also makes it green and nice to look at from the inside of the truck. My job is also somewhat physical. We climb up and down ladders on the truck all day so it's nice to get some exercise during the workday.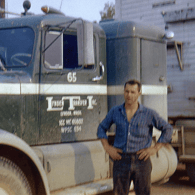 Your father, Lee Burgess, was an early Alcan driver for Lynden in Alaska. What do you remember about your Dad's legendary career?
When I was 9 years old, my dad took me on a ride-along to Fairbanks. He also took my grandfather up at one point. When I rode with dad in 1966, you had to get permission from Hank Jansen to take passengers. I have three sisters, but I guess none of them wanted to go. Dad ran pretty steady on the Alaska route for about 10 years, pictured to the right. I only saw him once a week when he was home, but we always took long summer vacations. My mom missed him, but made friends with the other drivers' wives. They bowled in a league sponsored by Milky Way and went shopping together. Everyone stuck together. Dad is now 83 and he drives the old Alcan truck No. 27 to parades and truck shows. He enjoys still being part of the Lynden family.

What is a typical day like for you?
The biggest challenge is getting up at 3 a.m. to go to work. I live 40 minutes away from work, out by Lummi Island. I am at work and in the truck at 4 a.m. and drive to my first dairy pickup northeast of Lynden. My first load is 70,000 pounds of milk. I fill up both trailers and head to the Darigold plant. Before I leave the dairy, I take a sample of milk, run it through the lab, measure it, write down the weights, put it on a load sheet and enter it into my electronic program in the truck. We have a hand-held computer where we record the milk temperature, time and bar code labels that go on the milk.

We use a sanitized dipper and plastic vials to test the milk for bacteria and antibiotics and the sample is put in ice to keep it fresh. The procedure is very exact so you don't contaminate the milk. Once this process is done and the milk test is clear, we open the values on the tankers and unload the milk into the tall silos at the Darigold plant. It's about a 2-hour process from pickup, testing and delivery to Darigold. After the first load is delivered, then I have my coffee!

I go right back out to the second dairy and load up both tankers again. When I started I had around 13 stops and there were 440 dairy farms in Whatcom County. Today, I go to six or seven dairies and the number of farms has dwindled to 94. Each of those has about 50 to 1,500 dairy cows though, so there has been consolidation of the smaller farms.

What has been most challenging in your career?
Nothing has been all that challenging, just different. My years hauling molten sulphur required getting a haz-mat certification. It was just a test and wasn't too tough, but it was a different mindset hauling that kind of freight. We picked it up at local refineries at Cherry Point in Ferndale, WA. It was Mobile and Arco back then, now they are BP and Tesoro. Most of it went to Georgia Pacific in Bellingham. They made acid out the sulphur to break down logs into wood pulp to make paper products. We drove to Port Angeles, Port Townsend, Longview and Cosmopolis over the five years I had that job.

I also drove flatbeds and hauled aluminum. We had a rock haul at one point from Kendall, WA on the way to Mount Baker and on to Bellingham to a cement plant. That was a 10-year project.

What changes have you seen over the years?
To sum it up, tremendous growth. When I started everything was more personal because it was a smaller operation based in Lynden, WA. I went to high school just six miles from Lynden. I feel like I have grown up with the company in some ways. Equipment has changed, too. When I started in the 1970s we had the most modern equipment you could get in the day, but the new trucks are more like driving a car. Lynden always provided good equipment to use. They spent money to make money. That's why they are so successful.

Can you tell us about your kids and grandkids?
I have three adult children, ages 37, 34 and 27, and two grandchildren.

What would surprise most people about you?
Someday I would like to hike parts of the 2,650-mile Pacific Crest Trail (PCT) that runs from the Mexican border to the Canadian border.

How do you spend your time outside of work?
I learned to ski in fifth grade and still spend my winters skiing. My favorite place is Whistler. I also like to hike and would like to go on an extended backpacking trip at some point. I enjoy watching football and although Seahawks is my No. 1 team, I'm also a New England Patriots and Green Bay Packers fan.

What are your thoughts about working for Lynden?
I'm fortunate that I've had the job all these years. By the time you're my age, most people have had two or three different jobs or even tried different careers. I have had one. I'm proud to work for Lynden and represent Milky Way on the road every day.
Topics from this blog: LTI Inc. Milky Way trucking Lynden Employees Everyday Heroes