Lynden is recognizing employees who make a difference every day on the job and demonstrate our core values, Lynden's very own everyday heroes! Employees are nominated by managers and supervisors from all roles within the Lynden family of companies. Learn more about the people behind your shipment.

Introducing Cathy Doyle, Customs District Manager at Lynden Canada Co. in Fort Erie, Ontario.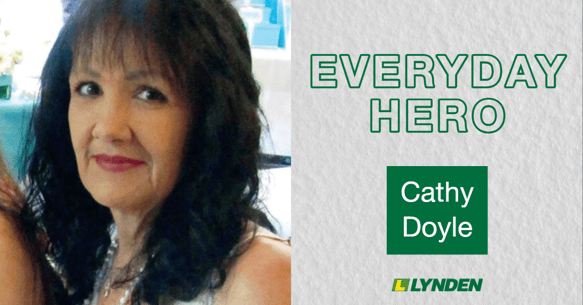 Name: Cathy Doyle

Company: Lynden Canada Co.

Title: Customs District Manager

On the job since: 1989

Superpower: Perfect Attendance

Hometown: Fort Erie, Ontario

Favorite Movie: The Sound of Music

Bucket List Destinations: Thailand and Scotland

For Fun: Watching my children's basketball and soccer games, decorating, home renovation projects and spending time with family and friends.

How did you start your career at Lynden?
I worked for customs broker Key Customs for many years. It was purchased by Lynden approximately 12 years ago. I started working in the customs business right out of high school. I was only 16 when I graduated and turned 17 that summer. My first job was working for my father, who was a customs broker. They had an employee out on maternity leave and I filled in for the summer. I had planned to go to college to be a lawyer, but I really liked the full-time paycheck. I stayed there, bought a car and kept on working. I ended up taking customs courses over the years and, finally, the Customs Broker Professional examination issued by Canada Customs. I completed several years of courses to improve my knowledge and skills.

What is a typical day like for you?
It's never the same. You get up in the morning and think you have your day planned. You have work from the day before, imports to work on, etc., but you come in and a million things come at you at the same time. I almost always stay late; there are times I don't get home until 10 p.m., especially in the summer. Many of our customers have seasonal freight with a large volume increase for their shipments in the summer. That season is always our busiest. We have a client that does asphalt paving and imports oil for the roads. They ship to companies all over Canada and it's nonstop in the summer. I almost always eat lunch at my desk, and I have a cupboard of snacks that the whole office knows about. Recently our office supervisor, Jennifer, has taken over a majority of my duties so I am freed up to do other tasks with clients such as meeting new regulations and trying to expand our business into more freight and warehousing.

I am trying to get the word out that we offer much more than just customs brokerage. I'm setting up meetings and selling the business. Many of our customers have been with us 15 to 20 years. I have dealt with them regularly over the years and they come to me with questions. We have a good rapport and a well-established relationship. I enjoy that part of the job.

What has been most challenging in your career?
There have been many challenges recently, and mostly in the past two years or so. Lynden Canada not only was in the midst of re-structuring, but also changing onto the new system CargoWise for all customs clearance and freight. Recently we are trying to go paperless with the CargoWise system for customs clearance, freight and invoicing. We switched systems almost two years ago and that has been a big change. There have been a lot of changes in customs at the same time as well. Other Canadian government departments are going electronic which requires more information from our customers for import of their products.

What changes have you seen over the years, either in business, customers or technology?
Customs has been electronic for numerous years, but they have recently gone to a different system which incorporates other government departments as well. It's a single window entry. We are asked to provide much more detailed information and use 'single windows' for all imports of our clients products into Canada, which incorporates all other government departments and their regulations. It's all in an effort to make the borders more secure and to make sure that customers are being compliant with the imports. We all support this, but the changes are a lot to keep up with at times, and can be very challenging.

When I started with Lynden Canada, we had a computer system, but our client base was handled manually with a few binders containing data, client agreements, products and special notes for each client. It was filled with each client's import details, importer numbers, specific billing instructions, etc. We also cleared their shipments through Canada Customs using hard copies of import forms and information provided by them was done through either telex or fax. If you needed additional information on their products and it had to be in writing, I remember the telex would ding.

Drivers could sometimes stand in line waiting for an hour or two at customs for clearance on any given day, especially during the busy seasons. They would have to put their paperwork in a tray and wait for a release before they could leave. You also could have over 100 trucks parked in the customs compound at certain times throughout the day. Today, the drivers do not even have to get out of their trucks. Everything is electronically handled by the brokers on behalf of the clients as well as by the carriers, dispatchers and drivers who are required to provide all details electronically to Canada Customs. All commercial carriers must also be customs registered to carry commercial goods, and all drivers must be pre-approved as well.

At our Fort Erie office where I am located, we handle all the import clearance for trucks and air shipments (except Toronto airport). We also handle every border crossing throughout Canada from east to west. Each one of our imports team members has assigned ports which they would handle. On any given day we may clear between 60 and upwards of 90 to 100 import shipments.

Can you tell us about your family and growing up years?
I am the oldest of three children in my family. I have two younger brothers, one which is only a year and half younger than me, so we were very close but also fought quite often growing up as all siblings do.

My family was into sports. I did figure skating (competed for 10 years), gymnastics for about 15 years and played baseball when I was younger. I had figured skated until high school graduation. I played in a girls' softball league growing up and as an adult played local softball as a pitcher in a mixed league from age 17 to 26. I also bowled for over 25 years, and for a majority of those years in the customs bowling league. I do not play softball any longer but I do still bowl on occasion when time allows.

I have two daughters ages 24 and 18. One is currently in college and the other graduated a couple of years ago. My youngest daughter chose to continue with basketball after high school and currently plays college varsity basketball. My oldest daughter has since graduated college in the physio therapy field a couple of years ago, but while in high school she had chosen soccer as her sport while attending college and she had played for three years on the women's varsity soccer team.

What was your first job?
I babysat as a teen. We had neighbors with young children and every summer I would work for two different families. I was 14 years old and babysat a newborn baby and a 2-year-old for one family. I would go to their house at 7:30 a.m., get their kids and then go to the second family's house where there were two more kids, ages 3 to 5. I would babysit the whole group in one house, by myself, from 8:30 to 5 p.m. every day, five days a week.

What would surprise most people about you?
I skipped a grade while in elementary school and graduated from high school at age 16.

I did hold the women's high average for bowling in Fort Erie mixed league, until I quit three years ago. And I also took the bowling title numerous times for ladies high single, high triple and average several years in a row. My mother and I were always in competition for those titles as she was a bowler also. I started bowling because of my parents.

How do you spend your time outside of work?
My husband and I are just recently first time empty nesters. We are updating and renovating our nest by undertaking all sorts of home improvement projects. Since this summer we have redone the flooring throughout the upstairs, painted and redone the kitchen. I am doing it all myself, with his assistance. We had also gutted the bathroom and redid that, as well as painted and redecorated the bedrooms, family room and living room so far.

Throughout the past 12 to 15 years, we spent a lot of time traveling throughout Ontario as well as the U.S. to support both of our daughters' sports careers. As our youngest daughter played basketball in the summers for a Buffalo, New York based team, we would spend our summer vacation usually in Indiana, Philadelphia and Kentucky as well as all over New York state for long weekend tournaments.

We also try, as a family, to get to Wasaga Beach near Collingwood, Ontario every year, even if just for a weekend with our daughters and or even their friends. It's an annual vacation we take to a friend's cottage every year since my children were born, so we try to find the time each summer.

What do you like best about your job?
It's always challenging. I do not like repetition.

The most important thing is the team we have here in Fort Erie. Most of us have been here and together for 10 to 20 years. We also have a really good team in Milton. We are always helping each other out and can call each other at any time. In our office we are on call 24-7 for the drivers anyway, and always know how to get ahold of each other during off hours should the need arise. Each person is always willing to jump in to assist the others. Our staff in Fort Erie is like a close-knit family, and sometimes over the years we have actually spent more hours together at work then we did at home with our own families. We also make a point to celebrate each other's birthdays and Christmas every year and are constantly bringing in treats and coffee to share.
Topics from this blog: Lynden Employees Everyday Heroes