Lynden is recognizing employees who make a difference every day on the job and demonstrate our core values, Lynden's very own everyday heroes! Employees are nominated by managers and supervisors from all roles within the Lynden family of companies. Learn more about the people behind your shipment.

Introducing Brian Zweegman, Welder/Fitter at Lynden Tank Company in Lynden, Washington.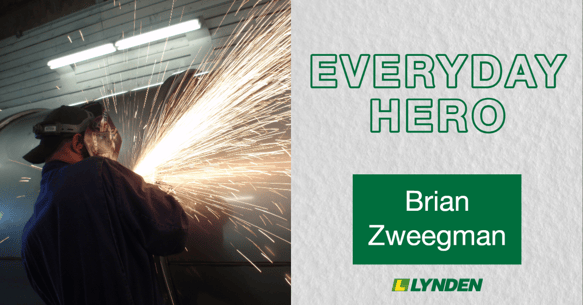 Name: Brian Zweegman

Company: Lynden Tank

Title: Welder/Fitter

On the Job Since: 1995

Superpower: Exceptional memory

Hometown: Lynden, WA

Favorite Movie: The Bourne Ultimatum

Bucket List Destination: Alaska and Holland

For Fun: Attending my kids' sporting events and activities, RV camping, traveling and trap shooting

How and when did you start working for Lynden?
I started working at Lynden Tank in March of 1995 when I was 17 years old. The Mt. Baker Rotary Club had a job shadow program and Guy Jansen, who is a member of the Rotary, brought me to the tank shop as part of that program. I was given a job that same day. At one point, I drove for Milky Way for about a year, and I also drove for LTI, Inc. for about a year and did maintenance. I have done many projects through the tank shop for various other Lynden companies.

What is a typical day like for you?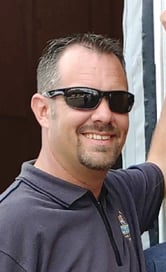 On a typical day, I start work at 6 a.m. and work until 4:30 p.m. Monday through Thursday. No two days are exactly the same. Some days I am running a press brake, bending up components used for manufacturing milk tanks. Other days I could be inspecting a coded/chemical trailer or welding up components or doing a final inspection before a new set of milk tanks hits the road. There are some days that I do a bit of it all. My daily tasks depend on what is needed and what is a priority for the company.

What has been most challenging in your career?
Currently, our biggest challenge is navigating through material shortages and delays in getting the supplies that we need to build a quality product that meets our high standards. Personally, one of my challenges on the job is that I am color blind so I cannot do any wiring.

What are you most proud of in your career?
Every time we turn out a new set of trailers, I think we (all the tank shop employees) are proud of the work we put into them. When I am traveling in Washington or Idaho or beyond and I see a set of trailers I am proud that I had a small part in building them.

Can you tell us about your family and growing up years?
I grew up north of Lynden on a dairy farm that my parents still run today. My two brothers, my sister and myself all went to school locally, and we all still reside within 30 minutes of the family farm. Growing up, I was very active in the Lynden High School Future Farmers of America (FFA) and spent a lot of time working on Ag (Agriculture) mechanic projects in our school shop. I won various awards for these projects and also my tractor driving skills at both the state and national levels.
Today I still live in Lynden with my two kids. My son Case is a senior at Lynden High School and plays football and baseball. My daughter Maddie is a sophomore at Lynden Christian High School where she plays fastpitch and is involved in FFA.

What was your first job?
As a child of a dairy farmer, my very first job was on the family farm. When I was 11 years old I fed bull calves for a neighbor which was my first job off the family farm.

What would surprise most people about you?
I think a lot of people would be surprised to know that underneath my somewhat rough exterior I am a bit of a softie who wears my heart on my sleeve.

How do you spend your time outside of work?
When I'm not at Lynden Tank or watching my kids' sports and activities I still work on my parents' farm doing maintenance and crop harvest. When time allows, I like to take my travel trailer to new locations and explore new areas.

What do you like best about your job?
The first and most important thing that I like about working at Lynden Tank is my boss Len Kilmer. He is fair and honest, and he creates a great environment for us to work in. A very close second is the entire tank shop crew. They make coming to work fun, and I enjoy working with them all. I also like that no two days are ever the same which keeps things fresh. Very early on in my career with Lynden I had the opportunity to spend a lot of time with Mr. Hank Jansen. Those times produced great memories which I will never forget.
Topics from this blog: Lynden Tank Company Lynden Employees Everyday Heroes