Lynden is recognizing employees who make a difference every day on the job and demonstrate our core values, Lynden's very own everyday heroes! Employees are nominated by managers and supervisors from all roles within the Lynden family of companies. Learn more about the people behind your shipment.

Introducing Brett Roberts, Lead Mechanic at Alaska West Express in Fairbanks, Alaska.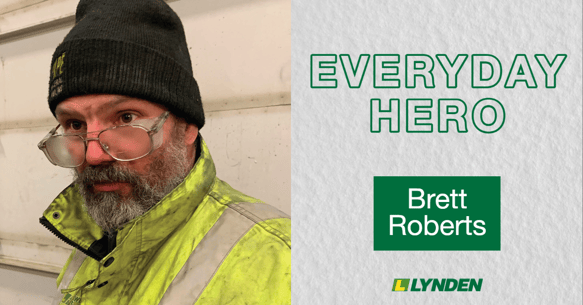 Name: Brett Roberts

Company: Alaska West Express

Title: Lead Mechanic

On the job since: 1989

Superpower: Mechanical Diagnostics

Hometown: Sioux Falls, SD

Favorite Movie: Pixar film Cars

Bucket List Destination: New Zealand

For Fun: Fishing, hunting and restoring a 1971 28-foot Uniflight Salty Dog vessel

How did you start your career at Lynden?
One of the drivers from the company I was working for heard about the job at Alaska West Express. I was 24 years old, single and ready for an adventure. I had an aunt and uncle that lived about 40 miles from Fairbanks, so I drove up in my 1977 Dodge pickup and stayed with them. I had always seen pictures of Alaska and said I was going to live there.

I interviewed with Leon Bender on a Friday and started work on Dec. 1, 1989 as a grease monkey servicing trucks. Even though I had two years of diesel mechanic training, I started where they needed me. Just because you know it doesn't mean you get to do it. My dad was a mechanic and I worked at truck shops since I was 16. I may not be able to remember names, but I can take an engine apart and remember where everything goes!

What is a typical day like for you?
I get to work about 4:30 a.m. I have an 18 mile commute to the shop. No one lives in Fairbanks. It's a rush minute instead of a rush hour. The vicinity is 100,000 people, but you are talking about an 80-mile circle. I have 2 ½ acres of land and that's not big.

Lately we have been extremely busy so I have had a six-day work week. We service from 15 to 20 trucks and trailers each day in 11 bays in our shop. They leave in the morning by 7 or 8 a.m., that's the driver's goal. It takes them 15 hours to drive up the haul road depending on their load. They take 10 hours off, then drive back 12 hours. Other trucks are headed to the Pogo gold mines or hauling military freight or going to Anchorage.

Our mechanics do a full inspection on each 1,100-mile trip the trucks make up the haul road. We check for broken springs, bad U-joints, broken lights and check the brakes. We do a chassis lube with the power greaser and check the driver's report for anything electrical or any engine issue. Sometimes the trucks turn quick, other times they are in the shop for two or three days depending on the condition. Trucks take a beating on the haul road (Dalton Highway). It's different than any other road in the Lower 48. Up here, the frozen, hard ice roads are better than the roads during the spring and summer. Once the thaw starts, you may be chaining up just to get through the mud! Our weather ranges from 100 degrees to 50 below.

I am restoring two heavy duty off-road trucks from Red Dog Mine that will soon be put to use at Prudhoe Bay. They have three axles and we start at the front bumper and work to the back, rebuild motors and wiring and eventually repaint these trucks.

I was already building trannies in high school. I don't know if it's a blessing or curse but I have mechanical ability. From bumper to bumper on a truck, I can figure it out or I will learn it. I sometimes do trainings here to teach new employees. I work with 20 other mechanics. With so much going on, it doesn't matter if you're fixing a transmission, rebuilding a rear end, swapping a rear end or electrical… I don't do service very much. I help other guys after they find a problem.

What has been most challenging in your career?
Electronic engines. I'm not a computer guy, but I've had to become a computer guy to work on the new engines. The funny thing is my boy is a computer programmer. He writes programs for computers. I don't even like carrying a cell phone. Alaska West Express sent me to Freightliner electronic computer training in 1994. I muddle through it, but it's not how I used to do things.

What changes have you seen over the years, either in business, customers or technology?
Electronic engines and brakes are now all ABS. When I started there was no ABS brake systems. Now we have electronic transmissions and all LED lighting. Equipment and parts have improved. From tires to wires, it's all more reliable and lasts longer. They are making a better product. The trucks are way more dependable than they used to be.

What project(s) are you most proud of?
Getting trucks back on the haul road quickly and safely is probably the biggest thing, but I also went to Hawaii with Jeff McKenney last year to set up a Smit-tipper for a project. This piece of equipment is made up of about 4 trailer loads and was stored in Fairbanks. We had to get it down to Seattle, get it set up and test it before moving it to Hawaii for use with lime to help keep emissions down at a local power plant. I've been here so long I was one of only a few people who actually knew how to assemble it and use it. It took us a week on Oahu to get it set up with the auger and all the pieces. It's 70 feet long when it's all put together. I was also sent to Bethel, AK for a week to put together and test new Piston Bully snowcats and sleighs.

Can you tell us about your family and growing up years?
I come from a family of five kids. I have an older brother and three younger sisters. Mom is still living in the house where they brought me home from the hospital in South Dakota. After high school I went to technical school in Minnesota for two years and moved to Alaska shortly after. I have been married to my wife Talitha for 13 years and have a grown son Tyler. We also had a foster daughter for eight months in 2011.

What was your first job?
Besides pulling weeds on a farm, my first real job was putting up chain link fences at 13 years old.

What would surprise most people about you?
When I was in vocational school, I dropped a 3208 Caterpillar engine on my right thumb. It cut it right off. I had it sewed back on in Minneapolis, but it didn't take and it had to come off again. I was 20. This was two weeks before graduation. It was a blow. I still don't know why it happened to me, but when I went back to the doctor to have the thumb removed a second time, he asked me if I had a job yet. I thought I was going to be out of work. I started applying right away so the day I graduated from vo-tech school I had a job.

When something like that happens, you can't let it ruin your life. It humbles you and you have to learn to cope. I am ambidextrous so that helped me adapt as a mechanic. I like to say it threw a monkey wrench in my plans, but I got through it.

How do you spend your time outside of work?
I have five snow machines, two four-wheelers, a river boat and a motor home. I like to get out and hunt and fish in the winter. There aren't too many roads, so I can go 50 miles in one direction and find good areas for hunting moose and caribou with muzzle loaders. My days off are Friday and Saturday so I can leave Thursday night and go out to hunt and fish then leave Saturday when people are just arriving. I also like going down to Valdez and fishing the rivers for pike and salmon.

I have a portable ice shack. I did a lot of ice fishing in South Dakota with my dad. That was his way of unwinding. He caught big fish and could've claimed state records, but he never turned anything in because he wanted to keep his fishing areas a secret. He broke the catfish record three times. He couldn't lie, so he just didn't say anything.

I also enjoy woodworking and building kitchen cabinets out of mahogany or oak. I've built cabinets for my parent's home and done some restorations. My wife is an event planner so she asks me to make wooden centerpieces and tables for her weddings sometimes.

Last year, I also went to Papua New Guinea to help build a house for a missionary from our church.

What do you like best about your job?
I still get satisfaction when a truck leaves the shop and you know that it is safe and ready for the road and driver. That feels good. I'm here to help the company and make the company better in the end.
Topics from this blog: Alaska West Express Lynden Employees Everyday Heroes