Lynden is recognizing employees who make a difference every day on the job and demonstrate our core values, Lynden's very own everyday heroes! Employees are nominated by managers and supervisors from all roles within the Lynden family of companies. Learn more about the people behind your shipment.

Introducing Bayard Folsom, Driver at Alaska West Express in Fairbanks, Alaska.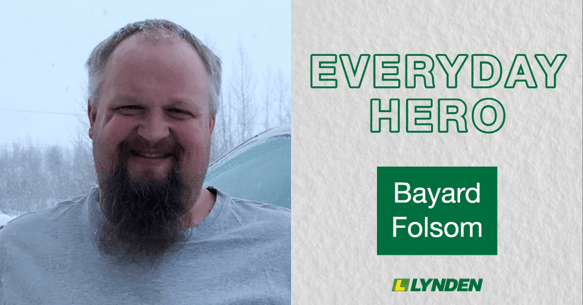 Name: Bayard Folsom

Company: Alaska West Express

Title: Driver

On the job since: 2007

Superpower: Ingenuity

Hometown: Coos Bay, OR

Favorite Movie: Book of Eli

Bucket List Destination: South America

For Fun: Camping, hunting, fishing and four-wheeling

What is a typical day like for you?
Just like everyone else, I get up and go to work. Some days it's trucking the haul road and other days it's working on trucks or equipment projects in the shop. I may be driving in Alaska or helping on projects in the Lower 48.

What are you most proud of in your career?
I am most proud of being part of the team at Alaska West Express since 2007. I am the person they can depend on to run recovery or manage an emergency scene when there are limited resources. I try to be anywhere they need me to be.

Can you tell us about your family and growing up years?
I was born in Oregon and grew up in Alaska enjoying camping, fishing and hunting with my parents and younger sister.

What was your first job?
My first job was working as a helper in a local truck/hydraulic shop at age 15.

What would surprise most people about you?
I've been told I'm a pretty good cook, and I can sew!

What are you most proud of?
To be able to help when and where I'm needed.
Topics from this blog: Alaska West Express Lynden Employees Everyday Heroes