Lynden is recognizing employees who make a difference every day on the job and demonstrate our core values, Lynden's very own everyday heroes! Employees are nominated by managers and supervisors from all roles within the Lynden family of companies. Learn more about the people behind your shipment.

Introducing Alfred Blum, Warehouse Associate - Detailed Receiver at Lynden International Logistics in Delta, British Columbia.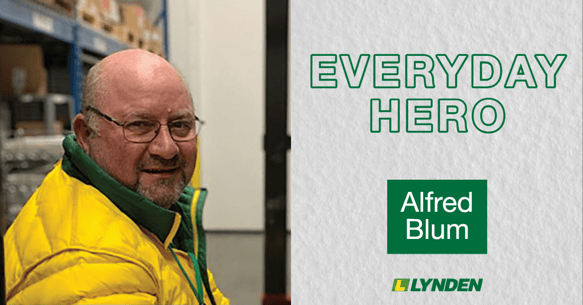 Name: Alfred Blum

Company: Lynden International Logistics, Delta, British Columbia

Title: Warehouse Associate - Detailed Receiver

On the Job Since: 1980

Superpower: Perfect Attendance

Hometown: Vancouver, B.C.

Favorite Movie: Rambo: First Blood

Bucket List Destination: Thailand

For Fun: Golf, landscaping, BBQ and smoking meats

How did you start your career at Lynden?
I started my career working for Johnson & Johnson and other companies. Then Livingston came in and I worked for them until they were bought out by Lynden. Now I have 41 years of seniority overall and the last 20 years with Lynden. With the change, I knew the work would be different products, but I was confident that I would adapt. I've been through a lot of managers over four decades and never been called into office for discipline or issues. After the buyout everything stayed the same with the business, we just had new clients.

What is a typical day like for you?
I get up at 5 a.m. and my shift starts at 6:30. I work four 10-hour shifts Monday through Thursday. First, I unlock the cages and bay doors and then the trucks show up for morning deliveries. We load and wrap pallets, I unload the truck, and do all the paperwork to put the product away. Afternoon is crunch time for CPDN (spell out) orders to go out. I assist with picking orders. With CPDN it's all different drugs for around 20 different clients. Before CPDN, we were shipping for Abbott and Johnson & Johnson products, so we warehoused soaps, toothbrushes, hygiene products, drinks like Boost and Ensure. Now we have a 50,000-square-foot warehouse and most of our product is pharmaceuticals. Our warehouse incudes a drive-in cooler at 2 to 8 degrees, an ambient area at 15 to 30 degrees and a walk-in freezer to store ice packs for packaging of our cold chain vaccine products.

Monday and Tuesday are big days for drug receiving from Ontario. On a typical Monday we get 15 skids, Tuesday might be 8, then cold-chain products. Cold chain comes on refrigerated truck from drug companies in Ontario and Vaughan. Some products don't move that often, some move within days. But all of the shipments are high value. One vial can be worth $30,000. When you pick orders, it prints out an invoice and you can see how much the order is work. Sometimes a $650,000 shipment will fit into three small boxes destined to a hospital or cancer clinic.

What has been most challenging in your career?
Probably keeping up with the volume of shipments. We'll get orders from 1 to 3 p.m. which is the busiest time of day for the drugs. Pharmacies, clinics and hospitals place their orders and our last truck leaves at 5 p.m. to deliver to a flight or to get it delivered next day all over B.C. It's a crunch to get the orders checked, packed, labeled, put onto pallets and shipped. You don't want to fail. We have a team that does this and if they are swamped, we all stop what we're doing and pitch in. I don't think we have ever failed, but there have been times we begged the driver to stay until 5:15 p.m. to get it all on the truck.

What are you most proud of in your career or your most memorable project?
A few years ago, we had an account with the center for disease control called BBC up here. It's like the CDC in the states. I was on call 24-7 for rabies vaccines for the BBC. Mostly it was children who would come in contact with a bat or a wild animal. I would get four to five calls a week to come in after hours (usually at 2 to 3 a.m.) to fulfill emergency orders for hospitals. I did that for five years. The only time I missed a call was when I was on holiday. I would get the call, drive to the warehouse, pick the order, pack it and sometimes drive it myself to the doctor, other times I would contact a carrier to pass it on. I am still the go-to guy for CPDN emergency shipments. I am also the designated first aid contact for my work group.

Can you tell us about your family and growing up years?
I was born in and lived in Vancouver until I graduated from high school in 1979. Then I moved to New Westminster where I met my wife Earlena. We were both employed by Johnson & Johnson and Abbott Laboratories. We've been together 30-plus years. We have a 25-year-old daughter Madison and a 22-year-old son Austin. My father passed away 26 years ago, and I miss him. We went duck and goose hunting for many years in Saskatchewan. My mom is 97 and lives in an independent living facility. I visit her three times a week. She just gave up driving a few years ago.

In school, I was an average student. I had to work for my grades. I graduated from David Thompson Secondary in 1979. All through school I played rugby and tennis. My dad was a baseball coach with community baseball, and he coached me from little league until I was 15. I played Babe Ruth league, until age 17, then tried one season of mens hardball. I wasn't comfortable doing that so started playing men's fastpitch and played that competitively for 6 or 7 years. I then joined slo-pitch and played on the same team, the Homegrown, for 22 years. My position was shortstop and left field. My wife played on the team, too. I now play golf almost every weekend and shoot in the mid-90s.

What was your first job?
A paper route, but I had to get up at 4 a.m. and ride my bike a long way to get the papers, so my parents made me quit. I then worked for a company called Evergreen Press. It was a local newspaper. I would go to the press building where they printed the paper and put strapping around the bundles on the conveyor belt. I did that for six months, then I got a job at Fletcher's Meat Packers. It was brutal and I didn't last long. I then started my career path with Johnson & Johnson that lead me to LILCO.

What would surprise most people about you?
I have perfect attendance. In 41 years, I have never missed a day of work.

What are you most proud of?
I feel proud that both our children have never been in trouble. They were great kids growing up, always respectful. Both of them were dream children. I would hear about other parents dealing with problems with their kids and feel so grateful that ours didn't have any issues. My son is into sports, played football all his life, peewee to high school, and my daughter is an avid runner and earned her black belt in Tae Kwon Do at age 12. Both work and still live at home. My son is a fourth-year plumber and about to earn his Red Seal which means you are qualified in plumbing, gas and electrical to work anywhere in the world.

I am also proud of what we have accomplished with the money we make. We are not rich, but I'm happy that we have a beautiful home and a good life.

What do you do outside of work?
I enjoy landscaping and taking care of our front yard. We have a manicured Japanese garden and topiary in the front. We moved into the house 21 years ago and brought it back to life. My wife and I do it together on Saturday afternoon and it's very relaxing. Then we sit on the back deck with a bottle of wine. We have a core group of friends, 4 different couples, that get together once every two weeks. We'll have dinner and then go to the pub 'meat draw.' They sell tickets for a package of ribs, steaks or a roast from Costco and then call the winning ticket. There may be 100 people entered. This may be a uniquely Canadian thing!

We also watch NFL football and consider the Seattle Seahawks our home team since they are the most local for us. My son likes Pittsburgh. When we go out to the pub with our friends hockey is always on the TV. But I don't care about hockey.

What kind of music do you like?
Neil Diamond, Simply Red, Michael Jackson, Queen and many other bands and artists. I used to play piano and my son dabbles in guitar.

Favorite hobby?
I BBQ quite often. Our back deck has a gazebo so I can cook in all weather. I also have a Big Chief Smoker. My friends do, too, so we all buy salmon and have a smoke off at my house, using our various recipes. You can sometimes buy a Sockeye Salmon off the boats for $15. My special recipe includes brown sugar, honey, soy sauce, Worcestershire, garlic powder, red wine and onion. I use hickory or alder wood. We start the smokers at 10 a.m., then they go home and usually come back at 3 p.m. to enjoy the finished product. We have a few drinks and swap smoked salmon with each other.
Topics from this blog: Lynden Employees Everyday Heroes