Lynden Logistics pulled together a last-minute charter move of oversized scanners for the Transportation Security Administration (TSA) late last year. The scanners, weighing a total of 17,000 pounds, were needed at the Honolulu Airport immediately to replace malfunctioning machines used for scanning passenger luggage for explosives.
"They were down to just one machine to scan passenger luggage for explosives at a very busy airport," explains Juan Carlos Cruz, District Manager at the Puerto Rico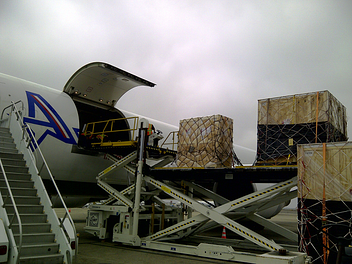 office. The Lynden team chartered a flight from San Juan to Los Angeles, handled all the rigging and packing, and set up another direct flight on a freighter into the Honolulu Airport. "It was a very complex move, but we knew it was a matter of public safety to get the machines to Honolulu as quickly as possible," explains Juan Carlos Cruz, Puerto Rico District Manager. "Our team in San Juan with the help of Daniel Gotham in Houston and Roberta McClelland in Seattle pulled together to get it done".
In another high-profile move, the Orlando and Newark offices handled the delivery of microphones and other audio equipment for use at the General Assembly of the United Nations Meeting at New York's Warwick Hotel. Orlando Manager Danny LaVallee received a thank-you letter from customer ProLingo for Lynden's outstanding service despite multiple last-minute schedule changes, Secret Service screenings and heavy security. "These events require time-sensitive deliveries, as well as good communication. All venues have heavy security and this meeting required several delivery time changes," LaVallee explains. By keeping in contact between the Orlando and New Jersey offices, Lynden made all deliveries on time. "These deliveries were not easy, especially in a busy city like New York during UN week," writes ProLingo Shipping Manager Julie Youmans. "Lynden made it seem effortless."
Topics from this blog: Hawaii Lynden Logistics Charters Oversized/Heavy Haul Air