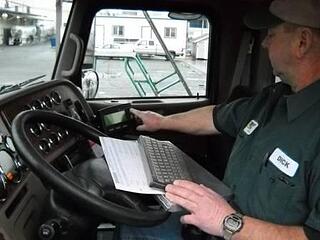 Late last year, Milky Way began using a new onboard computer program with customer Darigold that has revolutionized the way information is shared between dairy farms and milk processing plants. "From a customer service perspective, this is a game-changer," says LTI, Inc. President Brad Willliamson. "This new process is improving data accuracy and visibility and significantly reduces the amount of time it takes for milk producers (farmers) to view their volume and quality information online after we pick up the milk."
The new farm pickup system captures loadsheet data (producer, weight, milk temperature and destination) in the truck's onboard computer and sends it back to Darigold's IT system within hours. In the past, this process could take as long as 10 days and records were kept by hand in logbooks. Loadsheet errors have been reduced by automated validation, and the process for the field staff and lab to receive loadsheet comments has been streamlined by distribution via email. "A long-standing goal of Darigold has been to deliver accurate quality and component data to our producer base on a timely basis. Receiving this information is a value-add to our producers; they can react with changes on the farm that result in maximizing quality milk deliveries," explains Darigold Director Kim Kennedy.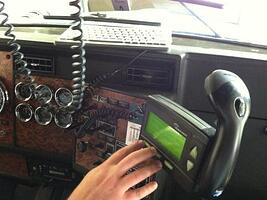 "This initiative has been unique," he adds. "Its success relied on a true strategic partnership between LTI, Inc. and Darigold with mutual sharing of risks and benefits. To date, we have seen substantial improvement in the accuracy and timeliness of information flow. Darigold management is very proud of this accomplishment."
According to Brad, Milky Way drivers are key to the program's success. "It was a real change for them, and we are proud of the way they responded. Our continued success with this project depends on the quality data they enter with each pickup." The new system was developed and tested by Lynden Inc.'s IT Department and Milky Way. It will soon be available to other milk and bulk commodities customers.
Photo: Whatcom County Milky Way Driver Dick Stacey.
Topics from this blog: Lynden LTI Inc. Milky Way trucking Bulk Ground