Captain James Wallace and his Lynden Air Cargo crew recently flew to Haiti as part of the disaster relief flight efforts. Captain Wallace shares his experiences and photos from their trip to Haiti:
--------
Captain James Wallace - Haiti Relief Flight Experiences
The disaster events of January 12th to the country of Haiti is proving to be a daunting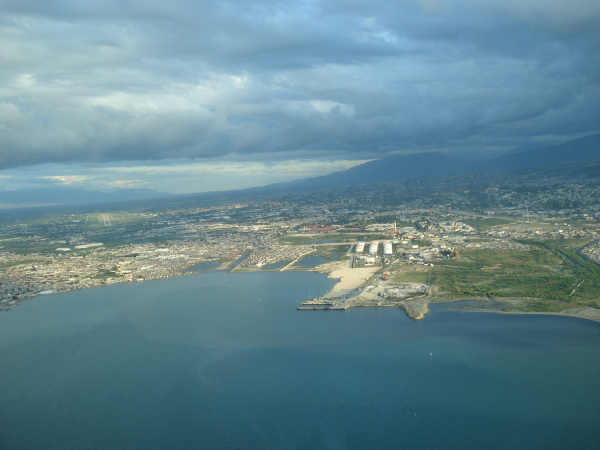 task for the entire world community. Lynden Air Cargo in coordination with USAID and countless others is accomplishing the goal of providing seamless support to the Haitian community. The result of this tireless effort ultimately is saving lives. As a crew we were fortunate enough to be part of this great effort. The ground crews of Lynden and USAID in both Washington-Dulles and Haiti displayed unparalleled team work, that ultimately assisted the flight crews to maintain the highest standard.
Upon arrival into Haitian airspace the calamity of events was apparent. All air traffic control was maintained by 1 man with 1 radio. His professionalism kept control of an incredible situation. In the 2 hours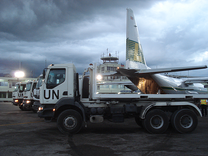 that we spent on the ground 50 aircraft came and went. The airport ramp is no larger than 5 football fields that services a runway with one taxiway. Up to 20 aircraft from DC-3's to 767's littered the ramp at any given time. People strewn the ramp assisting others unloading and loading aircraft in order for them to return with more aid.
The coming days will be a daunting task for all who are aiding Haiti. The high standard of Lynden Air Cargo and USAID begins with everyone, including the Loadmasters, Mechanics, Dispatchers, Aircrew, and the countless others that it takes to operate at this level of merit.
We say thank you,
The Aircrew of 405
Captain James Wallace, Robert Willoughby, Billy Miller, Bob Lesko, and Ted Pederson

Photos: 1) Lynden Air Cargo's N405LC on approach into Haiti. 2) On the ground in PAP offloading supplies to UN.

--------
To learn more about Lynden's Haiti relief flight involvement, please visit our relief flights information page.


Related Blog Posts:
Relief flights to Haiti: Captain Chris Caden shares his experiences
Relief flights to Haiti: Inspirational experience on the ground

Topics from this blog: Lynden Air Cargo Green Lynden Disaster Relief Lynden Employees International