Alaska Marine Lines, a Lynden company providing marine transportation to and from Alaska, is continuing its efforts to work lean and green by purchasing 200 of the most energy efficient refrigerated units in the world. The Star Cool "reefers" achieve the industry's lowest energy consumption by matching the compressor speed to the required heat load of the container rather than running at a single constant speed. In addition, the box and refrigeration equipment are built as one unit with an insulation system designed to minimize energy loss.
"At Lynden, we foster a culture of customer service, innovation and efficiency with a focus on protecting the environments where we do business," says Alex McKallor, Executive Vice President of Operations. "We operate under a company-wide Green Initiative and adopt programs and practices that reduce our environmental impact. Investing in this new energy efficient equipment is part of that effort."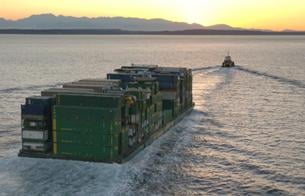 Alaska Marine Lines already uses a time-share system on frozen loads, greatly reducing energy consumption, and the new Star Cool reefers will allow the same energy saving results for chill loads. The energy saved will make it possible to power more units during Alaska's peak fish season to accommodate high volumes for customers without additional generators, energy use and fuel costs.
Over the past two years, Alaska Marine Lines phased out its 220-volt reefers and transitioned to more energy efficient 440-volt units. The company has worked to reduce fuel use and conserve energy in other areas as well. Working with partner Western Towboat, fuel and route optimization has reduced fuel use without compromising service. At the Seattle terminal, lighting and heating upgrades have reduced electric and natural gas use, and new electric forklifts emit 50 percent fewer greenhouse gas emissions than the older propane units.
Alaska Marine Lines also works with local communities and other Lynden companies to support recycling efforts around Alaska. The company moves nearly 3,500 tons of recyclables each year from Anchorage to Seattle for Alaskans for Litter Prevention and Recycling (ALPAR), helping to make drop-off recycling free and convenient for residents. In Cordova, the company donates shipment of gill nets for the Copper River Watershed Project as well as aluminum cans and cardboard where proceeds from recycling go to the local high school.
Along with sister companies Lynden Transport and Alaska West Express, Alaska Marine Lines has earned Alaska's Green Star Award, recognizing businesses that practice waste reduction, energy conservation, and pollution prevention. Lynden companies are on Inbound Logistics magazine's annual 75 Green Supply Chain Partner lists each year, and LTI, Inc., Lynden Transport, Brown Line, LLC and Alaska West Express are all EPA SmartWay Transport Partners.
Lynden's environmental policy calls for meeting or exceeding environmental regulations, maximizing fuel efficiency and monitoring and guarding against accidents, emissions and avoidable pollution.
Topics from this blog: Green Lynden Seafood Grocery Chill and Frozen Temperature-Controlled AML