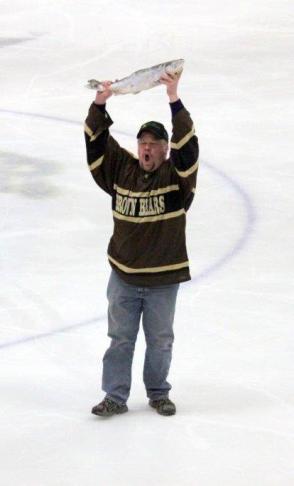 There's nothing fishy about Lynden Transport Account Manager Art Karvonen as he goes about his business each day at Lynden's Kenai office. But off the job he is known for holding a salmon over his head at local junior hockey games.
The tradition started in 2009 when Art was working the penalty box at a Kenai River Brown Bears hockey game. After the Bears scored their first goal, someone threw a frozen humpy (salmon) onto the ice. The referee refused to pick it up so Art dutifully walked onto the ice to remove it. In an inspired moment, he hoisted the humpy in the air. The crowd cheered and a tradition was born. Since then, Art has never missed a game or his new task of clearing the ice after the crowd throws a fish to commemorate the Bears' first goal of the game. The fish "tale" has spread throughout the North American Hockey League making Art somewhat of a local celebrity in hockey circles.
Art and his wife Lori open their home to NAHL players nine months a year, serving as a billet family for players up to 20 years of age. "It's a great experience having them," he says of his role in trying to help the teen players get noticed by colleges. Art played semi-pro hockey overseas and now plays on the Rusty Blades team in Soldotna.
"This is the kind of community support I like to see our employees involved in," says Lynden Alaska Sales Manager Paul Friese.
Art was featured in a newspaper article in the Peninsula Clarion last month. "I've received many calls, emails and texts since then," he says. "It's been unbelievable and a lot of fun to be recognized. It's also helped the team get recognition, too."
Topics from this blog: Lynden Employees Alaska Community