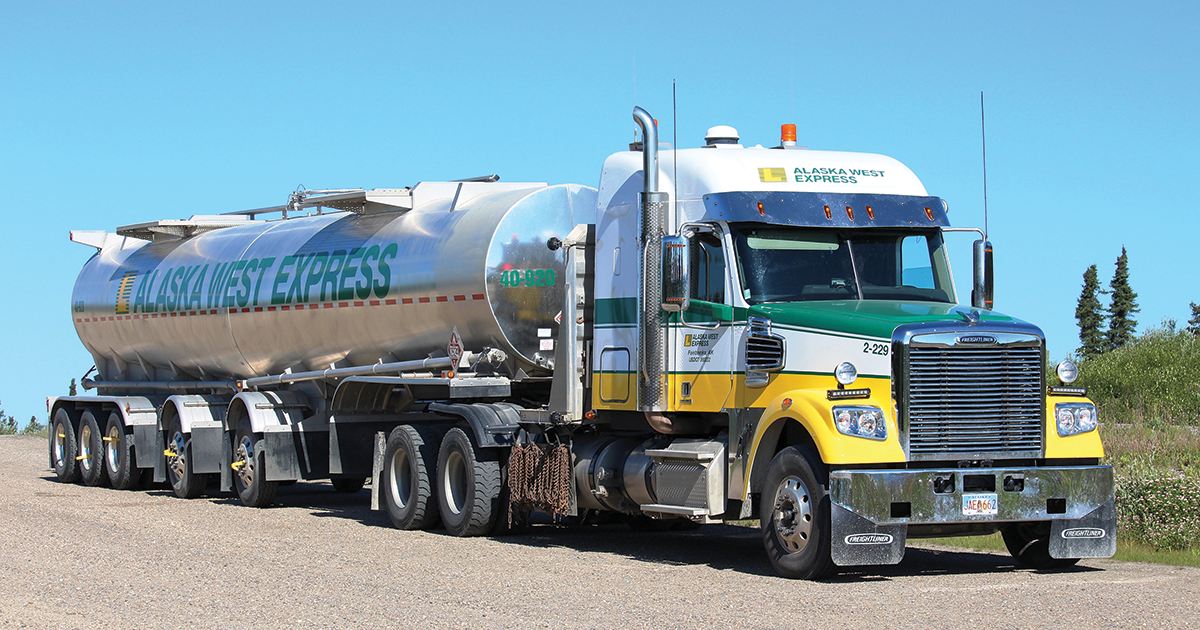 Alaska West Express truly walks the talk when it comes to handling and transporting hazardous materials over challenging terrain with the utmost respect for safety, pollution prevention and the environment. Over the last five years, Alaska West has transported an average of 14 million gallons of fuel annually with no accidents. This year alone, drivers have traveled nearly 5 million miles without a recordable accident. Since joining the EPA SmartWay Transport Partnership in 2012, Alaska West has increased fuel efficiency by 25 percent while increasing the average payload by 10 percent. This means moving freight with less fuel and an overall 26 percent reduction in CO2 emissions per ton mile.

"Over the last several years, we have continued to make Alaska West Express's trailering equipment more efficient," explains Alaska West Express President Eric Badger. "Our 406 and 407 tanker fleet is predominantly 5-axle, leading to a dramatically increased payload while reducing fuel consumption and number of trips. We have also purchased eight DOT 407 chemical tanks to allow us to haul over 2,000 gallons more per load."

Earlier this year, Alaska West Express took delivery of 10 Wilson aluminum 53-foot 5-axle flatbed trailers providing a 72,000-pound payload. They also feature a tire inflation system with heat-sensing devices that will alert the driver to an elevated wheel-end temperature. Alaska West drivers helped test the system from prototype to production.

According to Director of Maintenance Tommy Douthit, auxiliary power units provide heat and power to the cab when the truck is turned off and have helped reduce idle time by over 40 percent. Tire pressure monitoring equipment and laser alignment of tires reduces tire wear and also contributes to fuel efficiency. Newer, more efficient engines, combined with the improved fuel economy and payload, have led to a 39 percent reduction in particulate matter emissions and an 83 percent reduction in nitrous oxide emissions. "This contributes to better air quality in places like Anchorage and Fairbanks where winter inversions can trap pollution," Tommy says.

The Fairbanks line haul fleet is equipped with an onboard oil filtration system that allows maintenance to stretch out oil changes from 750 hours to around 2,500 hours or more. "We are only performing full oil changes on an annual basis now," Tommy says. "This translates to about a 75 percent reduction in engine oil use. Nothing goes to waste, as used oil from the trucks is then used to heat the parts warehouse in Fairbanks." The company is also testing a disc brake pad free of copper and other metals to meet an upcoming EPA requirement to preserve sea life in the Pacific Ocean.

Efficiency is not limited to equipment. Over the last several years, Alaska West's Fairbanks facility has converted nearly 90 percent of its lights to LEDs which have dramatically improved lighting quality and led to a savings of $50,000 per year in electricity costs. "This year, we also upgraded our primary heating system boilers to improve efficiency and added propane fired air exchangers to augment our floor heat. This gives us faster recovery time and quicker thaw cycles for our equipment to allow us to haul freight in snowy conditions," Tommy says.
Topics from this blog: Alaska West Express Green Lynden Ground