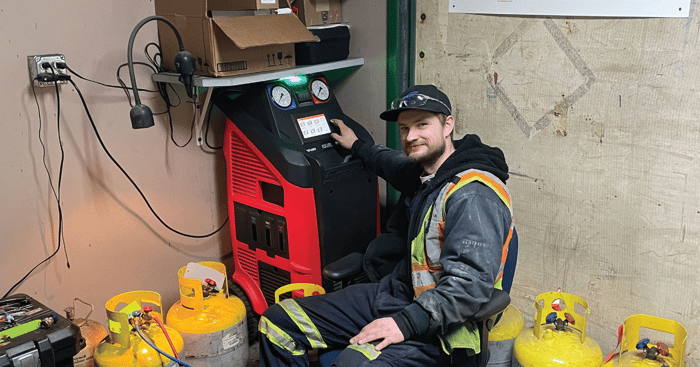 Refrigeration Mechanic Stephen Ingraham operates the refrigerant recycling machine.
For the last five years, Alaska Marine Lines has made substantial purchases of refrigerated containers to help modernize the fleet. This has allowed some of the oldest units to be decommissioned. Four years ago, Alaska Marine Lines issued a directive to save usable parts from these decommissioned units before they were sold for scrap.
Since then, over 500 parts have been saved or reused, resulting in approximately $150,000 in savings. "Along with reducing the need to buy new parts, it has also reduced the paperwork for the purchasing group, accounts payable and the mechanics since the used parts are not inventoried as new ones are," says Dylan Langfitt, Parts and Inventory Coordinator. "The biggest cost savings comes from saving the units' compressor. Compressors have increased in price, like most all parts. A new compressor now costs around $2,400."
In addition to saving the significant components, mechanics are also saving parts like switches, contactors, connectors and controllers. While most of these parts are under $100, the minute or two it takes the mechanic to remove them is well worth it.
Alaska Marine Lines is also starting a r134a refrigerant recycling program, headed by Assistant Maintenance Manager Steve Tafoya in the Yard 5 Reefer Shop in Seattle. With the refrigeration industry standards changing, r134a has seen substantial price increases over the last couple of years. It has gone from just over $3 a pound to more than $9 a pound.
"In the current practice, refrigerant is pulled out of the unit before the job starts and sent off to a recovery center," Steve explains. "AML pays to dispose of the refrigerant. Then new, virgin refrigerant is bought at the current rate to put back into the unit. In 2021, it cost $27,241 to dispose of dirty r134a and buy clean r134a."
Last year, Alaska Marine Lines purchased a Snap-On PolarTek AC Recovery Machine for use by trained mechanics. "The machine has been a huge savings for us so far by eliminating both the need to dispose of and buy new refrigerant," Steve says. "I believe it has already paid for itself. The only upkeep cost is buying filters for filtering refrigerant."
With the success of these new programs and plans for the future, Alaska Marine Lines has successfully increased the lifespan of its older units while modernizing its fleet. "The refrigerant recycling program will help ensure that changes in the refrigeration industry will not affect our ability to continue using our current fleet of refrigerated containers," says Branden Whipple, Alaska Marine Lines Lead Refrigeration Mechanic. "The used parts program also keeps our costs down while making sure we are getting the most value from our new and retiring equipment."
Topics from this blog: Green Lynden Temperature-Controlled AML Featured