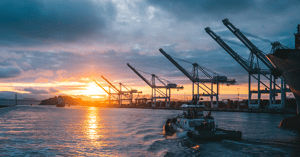 Earlier this year Lynden Logistics' Wendy Pavlik, Dave McGeath and Ollie Ladd had to keep calm and carry on while waiting out a blocked ocean shipment to Lebanon for nonprofit partner Hearts in Motion.

A full container-load of donated medical supplies, including walkers, bandages and wheelchairs, was loaded in Schererville, IN destined for Lebanon. Unfortunately, as the shipment was enroute, protestors shut down government and blockaded streets in Lebanon. Wendy and Dave kept in close touch with their contacts at Hearts in Motion to let them know that they were doing all they could to resolve the restricted shipment.

The container was consigned to the Government of Lebanon but protesters targeted anyone in the government as part of the corruption problem, so none of the government officials that normally would release the container from the port were in a position to do so. After three months of effort, an inside diplomatic contact secured approval to take delivery of the container and distribute the contents.

"The end result is that our professional perseverance provided the support our customer needed. The work Lynden employees do to serve challenging international locations keeps the Lynden name high above all others," Ollie says.