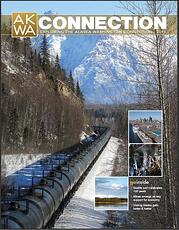 Petroleum Newspapers of Alaska, based in Anchorage, Alaska, recently released "Exploring the Alaska-Washington Connection 2011", the most recent edition of their annual publication.
As a multi-modal transportation company pioneering the way between Washington and Alaska for over 50 years, Lynden's name shows up throughout the magazine. We are proud to serve our customers and communities in Alaska, Washington, and throughout the world.

You can read more about Lynden's activities on the following pages of the magazine:
Page 6: Mining activity is also an important lifeline for numerous Alaska and Washington transportation companies, like Lynden Inc.
Page 18: Lynden, for example, provides trucking services for Capstone Mining Corp.'s Minto Mine in west-central Yukon Territory.
Page 28: The U.S. Department of Energy is introducing wind energy to the nation's small communities...an effort that Lynden is supporting with an offer to transport wind turbines and towers to 14 communities in Alaska.
Page 36: Alaska Airlines, Lynden Inc. and other businesses have taken numerous steps in recent years to reduce their environmental footprints.