Earlier this year, Alaska West Express, Lynden Transport and Bering Marine Corporation teamed up to move a valuable rocket motor from Elkta, MD to Kodiak, AK for government contractor ATK. It was the first commercial move of its type to the launch facility and was completed in just five days compared to the usual three-week turnaround.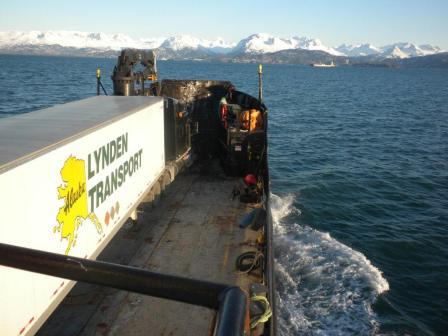 "Instead of shipping to Seattle and barging as this unit had moved previously, we proposed to truck the unit to Homer, AK inside a Lynden Transport heated van and use the Arctic Seal Bering Marine landing craft to haul the truck and trailer to Kodiak for transport to the launch facility," explains Jim Earl, Terminal Manager for Alaska West Express in Tacoma. Due to the explosive material in the motor, Alaska West Express was required to maintain a controlled temperature and shock recorder environment on the journey north. Satellite tracking and dual drivers were also used because of the sensitivity of the unit. The innovative delivery plan allowed the truck to stay hooked to the trailer as it was carried across on the Arctic Seal saving the customer almost two weeks of transit time.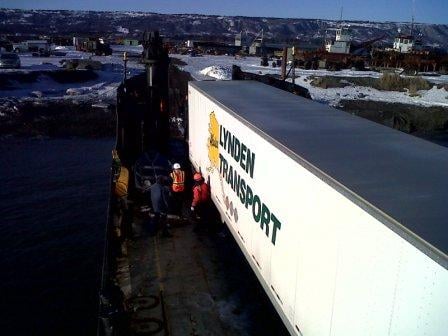 Alaska West Express Drivers Dan and Michelle Henry carefully moved the unit up the highway, and Bering Marine Captain Jack Rasmussen and the Arctic Seal crew sailed across the gulf to Kodiak. The rocket motor was rated explosive hazard class so multiple permits were required by both the U.S. and Canada. "Jim Maltby and Alan Hoza jumped through some major hoops to secure permits on short notice, and Scott Hicks did a great job with highway-marine coordination and communicating with the customer," Jim says. "It was nice to see Lynden teamwork in action, and it appears that we have secured a repeat customer."