Canadian Lynden Transport and Lynden Transport handled a move from Prudhoe Bay, Alaska to Edmonton, Alberta for customer Akita Drilling this spring. The Arctic Wolf drill rig consisted of 32 loads, including six weighing 90,000 to 110,000 pounds each. These challenging loads were coordinated by Prudhoe Bay Manager Jesse Burget and his crew and moved to Fairbanks. Tom Cox, Larry Johnson and Lonnie Young secured the loads in Fairbanks making them road ready for movement into Canada. Timing was important as seasonal road restrictions were about to go into effect that would delay the heaviest loads from transport to Edmonton.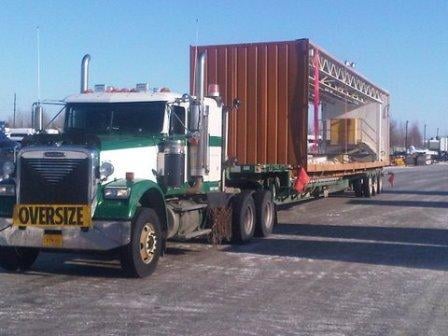 "The Prudhoe Bay, Fairbanks and Edmonton crews did a great job making it all happen," says Lynden Transport Manager Mark Graves. The last and heaviest load of the entire rig made it to Edmonton one day before the restrictions were in place.
"We moved this rig north about four years ago for the customer," says Canadian Lynden Transport President Walter Rakiewich, "so it was nice to get the repeat business."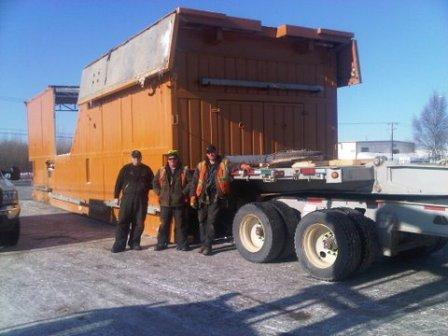 From left, Tom Cox, Larry Johnson and Lonnie Young with the substructure for the Arctic Wolf drill rig in Fairbanks.