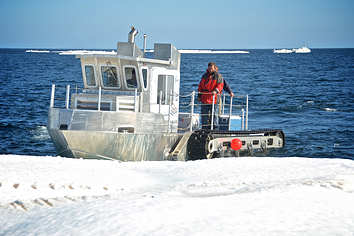 Alaska Marine Trucking, Alaska Marine Lines, Lynden Transport and Lynden Air Cargo all played a role in the multi-modal move of an amphibious unit from Southeast Alaska to Barrow. Working together, the Lynden team moved the prototype machine and its equipment from Ketchikan to Haines via ferry, Haines to Anchorage via truck and Anchorage to Barrow, the northernmost city in the U.S., via air.
Customer Service Representative Lisa Adams coordinated the booking and logistics with the support of Alaska Marine Trucking employees Kathleen Gamble, George Mitchell and Keith Nelson who handled tasks including loading the unit on a flat in Ketchikan. "Bill Gallaway scheduled loading and took measurements with me and Kathleen in Juneau gave pricing and made driving arrangements to get the unit to Anchorage," Lisa says.
The machine is a prototype built by Randy Johnson and his son Tyler of Tyler Rental in Ketchikan. Organizations have expressed interest in using the unit for search and rescue and oil spill response among other things. "This move was extremely critical due to the requirements of our contract to demonstrate the unit to the U.S. Coast Guard in Barrow," Randy explains. "We were very pleased with the support provided by the Lynden team".
The logistical plan including loading the machine at the manufacturing facility in Ketchikan and transporting it to Alaska Marine Lines for loading onto a 40-foot flat. Transport out of Ketchikan was challenging. The amphibious craft was loaded onto a ferry. A Lynden driver met the ferry in Haines to haul the unusual machine on the next leg to Anchorage for loading on a Lynden Air Cargo Hercules.
Once in Anchorage, the machine was transloaded again onto a special trailer that Lynden uses for loading the Hercules. It was a tight fit inside the Herc as Lynden's maximum height for cargo is 8 feet, 9 inches high and 9 feet wide inside the plane. The flat was slid into the plane on custom skids placed on each side.
Tyler rode as a courier on the Herc. "Once we arrived in Barrow around midnight, we placed our craft on the tarmac and began assembly the day after," he says. After its journey north, the 'Amphib' was back in Anchorage for a few weeks where Tyler was offering demonstrations.