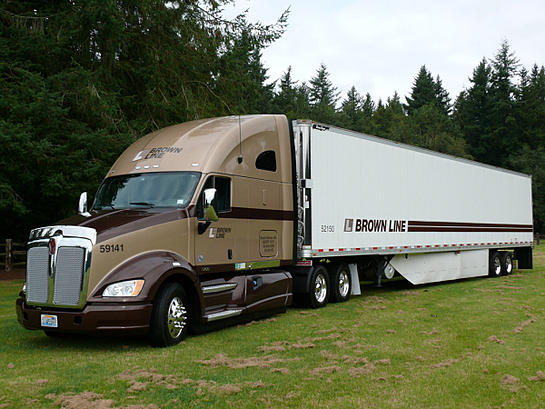 Over the last three years, Brown Line has implemented a number of changes resulting in a radical improvement in fuel economy. The company recently added 18 new tractor-trailer combinations that are achieving over 7 mpg on average. "With the new equipment fuel economy increased by 23 percent, trailer cubic foot capacity by 16 percent, and improved payload capacity by 6 percent," says Brown Line President Jason Jansen.

Driver behavior has also contributed to fuel savings, with PeopleNet onboard computing systems enabling drivers to assess their fuel consumption and compete to be the best. Maximum truck speed was reduced from 68 mph to 64 mph for eastbound routes and to 62 mph for all other routes. "We adjusted the gearing to match the lower speeds, and we set low idle time standards for drivers," Jason says. "PeopleNet also gives us the tools to improve routing, monitor tractor performance and idle time."
As a fleet, Brown Line's average fuel economy has improved from 5.4 mpg in 2008 to 5.84 mpg in 2011. All new tractors have roof farings and new trailers have side skirts to improve aerodynamics. The side skirts are estimated to save about 5 percent in fuel economy. Brown Line now has 30 new 53-foot trailers with side skirts that have replaced the older 48-foot trailers, and will be exploring retrofit options for the older equipment.
The new 53-foot trailers are 1,900 pounds lighter than the older 48-foot trailers they replaced and compliant with California Air Resources Board (CARB) rules for reefers units. All new trucks and trailers use wide-base, low-rolling resistant single tires and have an automatic system to keep tires properly inflated for optimum fuel economy and to reduce tire wear.