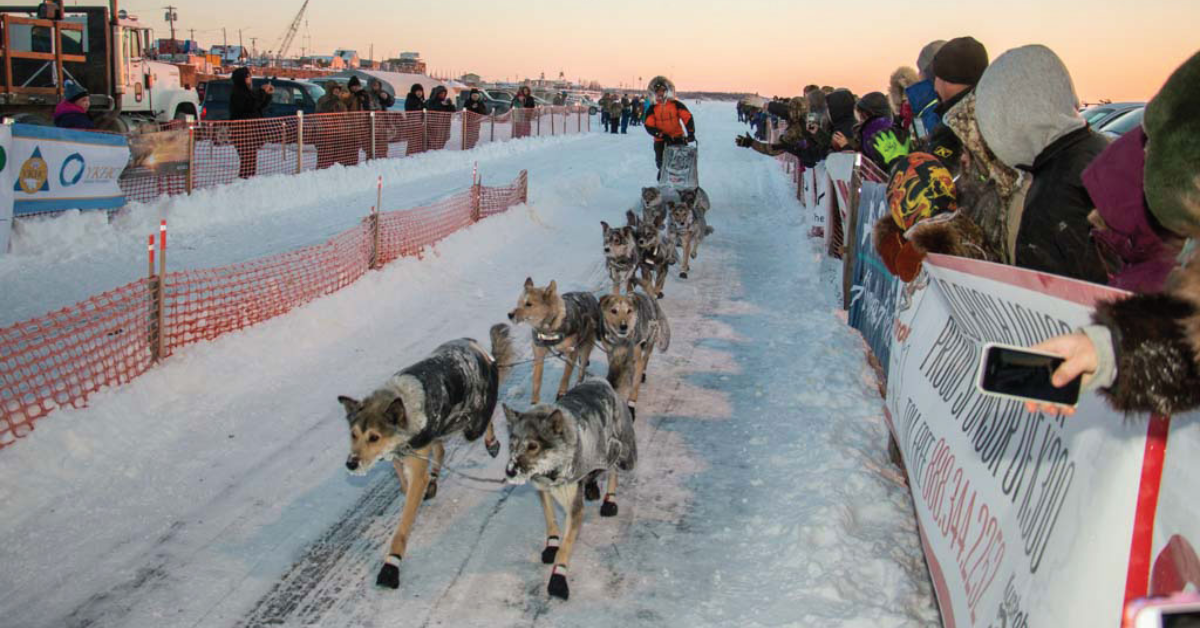 The Iditarod sled dog race celebrates its 50th anniversary this year, and Lynden will be out in front as a major sponsor of the 2022 race. The world-famous Iditarod begins March 5 in Nome, AK, and commemorates the mushers and dog teams that delivered life-saving diphtheria serum to save critically ill children in 1925.

"Lynden has a long history of supporting the Iditarod and the mushers and dog teams who compete each year," says Susie Stevens, Lynden Transport Account Manager and coordinator of Lynden's involvement in the event. "We are proud to support this iconic Alaskan race on its 50th anniversary and to celebrate the culture and heritage it represents."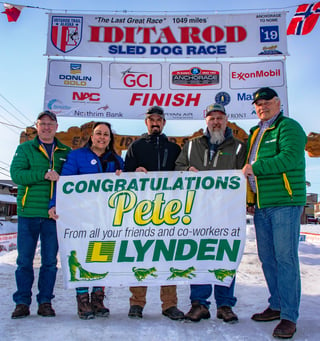 "Given that the Iditarod is one of the most challenging events in all of sports, it's great to welcome Lynden as a partner with its long history of logistical expertise and a strong commitment to bettering the lives of Alaskans," said Rob Urbach, CEO of the Iditarod. The Iditarod is an incomparable sled dog journey traversing approximately 1,049 miles of off-the-grid wilderness while contending with weather extremes of snowstorms, slush, ice, and high winds. These weather extremes are very familiar to Lynden as it has a reputation for delivering solutions and high-quality service through all logistical challenges over land, on water and in the air.

Lynden will sponsor the following mushers this year: 2019 Iditarod Champion Pete Kaiser (pictured right with Lynden volunteers) and repeat competitors Dakota Schlosser and Mike Williams, Jr.

Lynden's history of supporting the Iditarod and its mushers goes back to the 1980s when it sponsored the late Susan Butcher. Butcher was the second woman to win the Iditarod in 1986, the second four-time winner in 1990, and the first to win four out of five sequential years. She is commemorated in Alaska by Susan Butcher Day.

Lynden Air Cargo continues its support of the race by delivering dog food and supplies to race check points, and employees volunteer to help in a variety of capacities. Lynden was also a sponsor of the Junior Iditarod for many years.

In 2005, Lynden Logistics and Lynden Air Cargo transported Fritz, a fragile, taxidermied member of the legendary relay of dog sled teams that brought the serum to Nome in 1925, from Lake Placid, NY to Anchorage. From Anchorage, the dog was flown to Nome where he is part of an Iditarod display at the Carrie M. McLain Memoriam Museum. Fritz and his half-brother, Togo, traveled more miles than any other mushing team to deliver the serum to Nome where it saved scores of lives.
Topics from this blog: Lynden Lynden Air Cargo Lynden Employees Lynden Transport Alaska Lynden Logistics Community