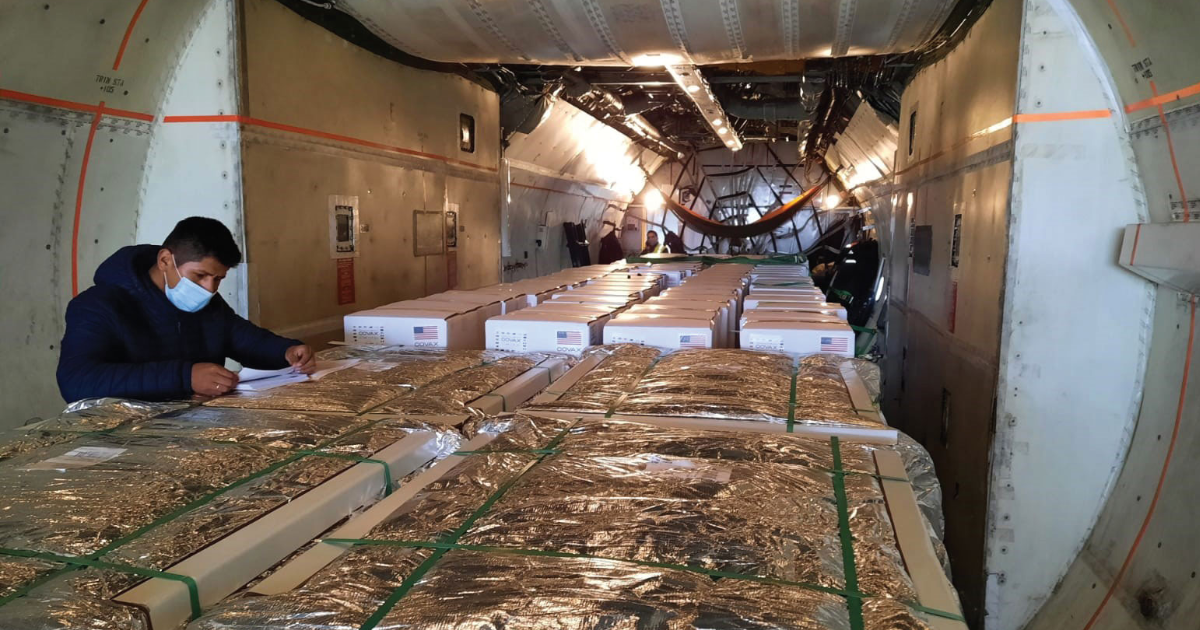 Lynden Air Cargo participated in two lifesaving projects this winter on opposite ends of the globe. Two flights were chartered to La Paz, Bolivia to supply Bolivian residents with Covid vaccines donated by the U.S. Government. Lynden's Hercules aircraft was one of the only planes capable of landing at the high-altitude airport; elevation 13,325 feet.
Each charter carried 1 million doses of Pfizer vaccines packed in dry ice with real-time temperature loggers to protect the temperature-sensitive drugs. "This project involved multiple Lynden crews and coordination with several departments as well as the customer," says Dan Marshall, Lynden Air Cargo Commercial Operations Manager. Additional charters are scheduled this month.
More than 7,500 miles away in the remote whaling communities of Point Hope and Kaktovik, a Lynden Herc delivered four 40-foot "hi-cube" containers to store frozen whale meat from the annual hunts in the villages. "Their size makes them extremely difficult to load and offload, so it required some novel solutions to accomplish the delivery," explains Dave Beach, Lynden Air Cargo Commercial Operations Manager. Lynden's Joe Bates and Cory Myren worked with the Alaska Marine Lines team to modify tractor dollies into mobile platforms for transfer. "Our partners at AML did an exceptional job," Dave says. "We found a way to help these communities when the only other delivery option was to wait for the next barge season.
"Lynden was key to making this important delivery happen for us. The flight crew watched for breaks in the weather and flew during small windows of opportunity," says Jenny Evans, Grants and Operations Manager for the Alaska Eskimo Whaling Commission. "It is so meaningful to our communities and to ensuring food security for our villages."