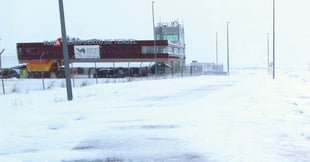 S7 Airlines is the second largest airline in Russia and a long-time Lynden Logistics customer. Over the years, the carrier has called upon Lynden for a variety of projects. A project toward the start of this year involved disassembling an Embraer E-190 aircraft in Madrid, stripping it to the wings and fuselage and shipping the spare parts to S7 subsidiary Nelson Parts in Bend, OR.
According to Sergey Buchumov, Russia Sales and Marketing Director, Lynden was handling about one shipment a week ranging from an Auxiliary Power Unit (APU) to a fuel thruster weighing 2,000 pounds. "This project required many of our services," Sergey says, "such as brokerage and hazardous freight transport for aviation batteries." The first shipment of 8,000 small parts required 8,000 line items with all the necessary documentation for each. This inaugural shipment also included a freak snowstorm in Madrid that shut down roads leading into and out of the area.
"Snow in Spain was not the type of hurdle we were anticipating with this project," quips Daniel Gotham, Business Development Director, Global Projects. "They don't salt roads in Spain."
Lynden provided customs and import services to the U.S. and door-to-door delivery to the Bend airport and the airport hangar where the parts were consolidated and stored. When the aircraft parts were eventually sold to domestic and international buyers, Lynden handled that as well, which included ocean and air transport. "We are often moving the same parts twice; from Russia to the U.S. and then again from Oregon to a new destination," Sergey explains.
In addition to S7, Lynden serves nine other Russian aerospace customers from its offices in Moscow and St. Petersburg. For those producing aircraft, Lynden moves production parts and for those already in operation, repair parts for Aircraft on the Ground (AOG) situations and other needs. Parts are often sourced from Boeing and other U.S.-based suppliers allowing Lynden to call upon its network of Service Centers for expedited service.
Topics from this blog: Lynden Lynden Logistics Project Logistics Air International