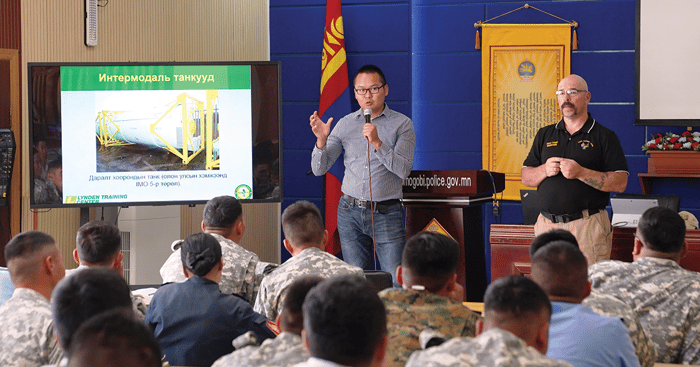 Lynden Training Center's Tyler Bones and Don Werhonig traveled to Sainshand, Mongolia last year to teach HazMat Operations Training to 67 students representing National and Local Emergency Management Agencies (NEMA and LEMA), the Mongolian Railroad and military personnel. The training and exercises were coordinated by the U.S. Army Pacific as a way to coordinate interagency response, humanitarian assistance and improve the Mongolian first responder's ability to conduct response activities. Both Don and Tyler volunteered for the trip supported by Lynden.

"We were asked to be involved in this exercise and exchange because of our experience with transportation, hazardous materials response and training. The State of Alaska's sister country is Mongolia, which is why they reached out to Alaska participants," Tyler explains. The Mongolian Railroad connects Russia and China and hazardous freight is hauled through Mongolia daily. The local fire departments have very limited training on handling a hazardous materials incident, so Tyler and Don prepared them for a potential disaster involving a railroad incident that releases hazardous materials into a community.

The exercise and training was not only attended by U.S. and Mongolian personnel, there were also representatives from Japan, Australia, Kazakhstan and 20 other countries.

"For me, Mongolia drew several parallels to the way we live our lives here in Alaska. The people work hard, have a passion for emergency response, and take their jobs very seriously. I made long term friends while working there."

"They are protecting their communities with minimal equipment, old apparatus and huge hearts," Tyler says. "This training has reminded us that professional emergency responders exist throughout the world." Lynden Training Center is available to provide remote training worldwide, but this was the most remote location ever visited by the trainers.
Topics from this blog: Alaska West Express Lynden Training Center Hazmat International