Lynden Air Cargo is expanding its scheduled service points in Alaska to include St. Mary's and Emmonak. Beginning April 30, Lynden will offer year-round scheduled air freight service on Tuesdays and Fridays to better serve customers and to support local industries in the Western Alaska region.

"We have traditionally served these areas with charter service to support seasonal fishing operations, but we are now proud to offer regular and reliable airfreight service all year," says Lynden Air Cargo President Rick Zerkel. "Lynden Air Cargo has been delivering freight in Alaska for many years, and we know the challenges and terrain. We handle oversized loads and small packages alike with our scheduled service and flag stops to points in the Alaskan Bush. We can arrange the right flight to get cargo delivered to practically any village or city in the state."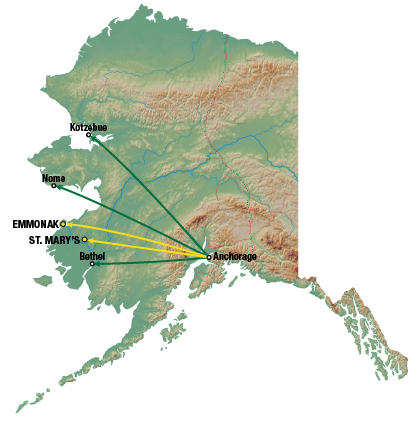 Lynden Air Cargo's scheduled service to St. Mary's and Emmonak will begin and end in Anchorage. In addition to fish and general cargo, Lynden will carry bypass mail in and out of the two areas in its commercial C-130 aircraft.

Lynden Air Cargo also offers scheduled year-round service from Anchorage to Bethel, Nome and Kotzebue and flag stop service to other remote points in Alaska. Flights to Bethel are scheduled Tuesday through Saturday and to Nome and Kotzebue on Tuesdays, Thursdays and Saturdays. More information on these services can be found at www.lynden.com/lac, or by calling 907-243-7248.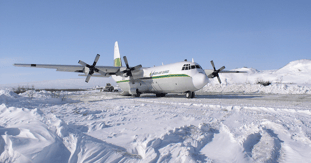 Lynden Air Cargo has increased its presence in the world market to include places like Papua New Guinea, Africa, and Antarctica. Because of its unique capabilities and its close proximity to Canada and the Northwest Territories, Lynden has been successful delivering oversized cargo to remote mining operations throughout the region.

Last year, Lynden Air Cargo received the Alaska Governor's North Star Award for its long history of assisting in humanitarian relief and environmental disasters worldwide. Lynden was recognized in the Transportation and Humanitarian Exchange categories and was one of only four companies to receive the honor. For more than 30 years, the Governor's North Star Awards for International Excellence have recognized Alaskan companies and organizations engaged in successful international business and activities.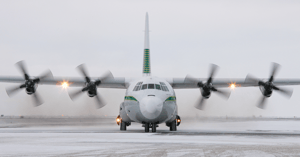 Lynden pioneered service to Alaska in 1954 and today serves customers in every sector of the Alaska economy, including energy, mining, seafood, retail, military and government. Lynden Air Cargo's fleet of aircraft supports multi-national oil and gas exploration and production companies on Alaska's North Slope through weekly scheduled flights and oversized cargo worldwide through charter flights. Lynden aircraft have responded to fires, earthquakes in Haiti, supported a peacekeeping mission in the African Congo and, most recently, mobilized relief flights to help those affected by Hurricanes Irma, Jose, and Maria in the Caribbean.
Topics from this blog: Lynden Air Cargo Alaska Charters Air Specialized