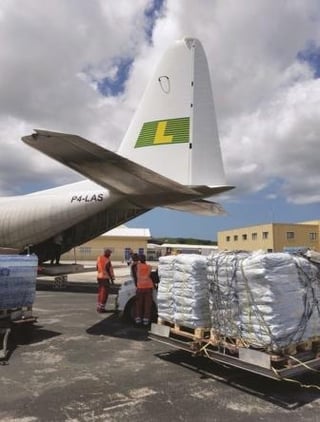 Lynden Air Cargo received the Governor's North Star Award for its long history of assisting in humanitarian relief and environmental disasters worldwide. The 2017 North Star Awards were announced this week by Gov. Bill Walker in Juneau. Lynden Air Cargo was recognized in the Transportation and Humanitarian Exchange categories and was one of only four companies to receive the honor. For more than 30 years, the Governor's North Star Awards for International Excellence have recognized Alaskan companies and organizations engaged in successful international business and activities.

"We are honored to receive this prestigious award which we share with our employees and the Lynden family of companies," said Rick Zerkel, Lynden Air Cargo President. "All of our employees – in the air and on the ground – pride themselves on providing safe and reliable service while opening new international markets and opportunities to Alaska. We are also proud of our service in assisting victims of natural disasters and our environmental cleanup response. Wherever Lynden Air Cargo flies, it proudly represents Lynden, but also its home state of Alaska."

Lynden pioneered service to Alaska in 1954 and today serves customers in every sector of the Alaska economy, including energy, mining, seafood, retail, military and government. Lynden Air Cargo's fleet of L-382 Hercules aircraft transport everything from groceries to cars within Alaska through weekly scheduled flights and oversized cargo worldwide through charter flights. Its Hercules aircraft have responded to fires, earthquakes in Haiti, supported a peacekeeping mission in the African Congo and, most recently, mobilized relief flights to help those affected by Hurricanes Irma, Jose, and Maria in the Caribbean. Flight crews worked in situations where there was little information about airport conditions and contaminated fuel supplies.

"Since 1986, these awards have honored Alaskan companies that engage in successful international business and activities, and this year's honorees should be proud of the role they play in connecting our state to the rest of the world," said Governor Walker. "This diverse group of organizations is emblematic of the spirit of the North Star Awards."

The 2017 North Star honorees include:
• Chena Hot Springs Resort (Tourism)
• Hecla Greens Creek Mine (Trade, Export of Goods)
• Lynden Air Cargo (Transportation, Humanitarian Exchange)
• U.S. Customs and Border Protection, Alaska (Trade, Import of Goods and People)
Topics from this blog: Awards Lynden Air Cargo Green Lynden Disaster Relief