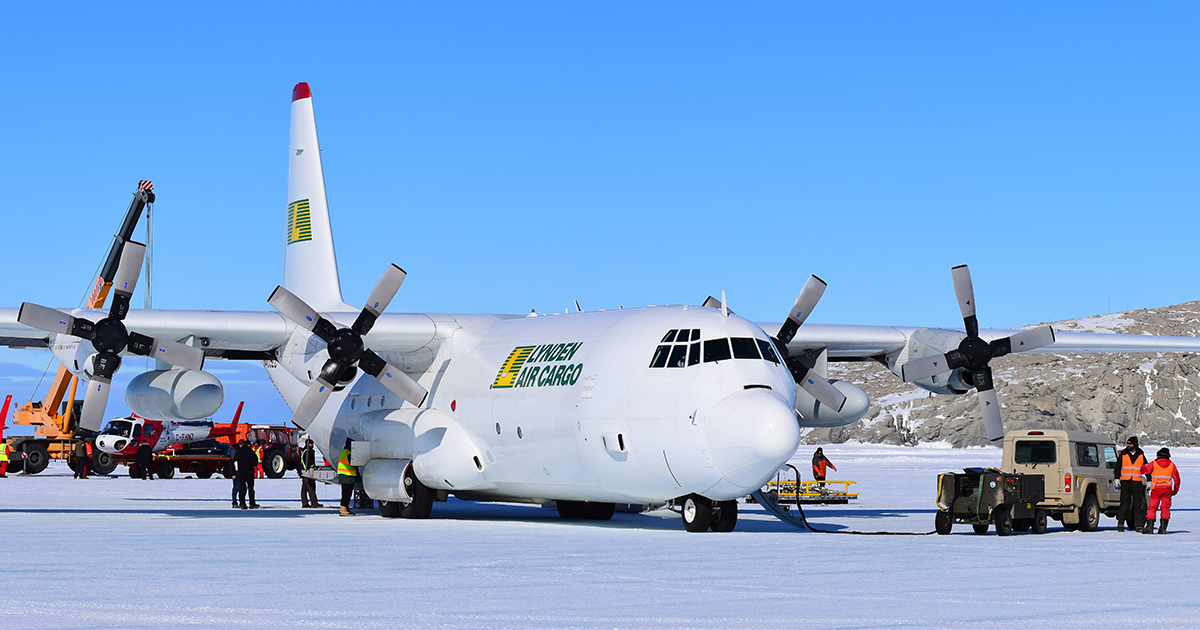 "Antarctica was the final continent on our checklist," says Lynden Air Cargo President Rick Zerkel. "Now we can cross it off." Lynden Air Cargo has joined a short list of operators that serve all seven continents by starting a new project in support of an Italian Antarctic Expedition team doing research on the icy land mass.

The month-long mission lasted from Oct. 30 through Nov. 30 and involved carrying supplies from Christchurch, New Zealand to Italian base Mario Zucchelli Station and Phoenix Field at McMurdo Station, the U.S. base in Terra Nova Bay, Antarctica. According to Lynden Air Cargo Captain Pat Madland, Terra Nova Bay is about 2,000 miles and 7 hours from Christchurch, and Phoenix Field is 300 miles further south and about 8 hours flying time. "This was accomplished with an augmented crew to allow for rest," Pat explains. "We also carry a loadmaster and mechanic." The whole operation requires nine people on the ground in Christchurch.

"This high-profile project illustrates Lynden Air Cargo's capabilities in remote locations," says Adam Murray, Director of Business Development and Marketing. "With 98 percent of the continent covered in ice, there are no cities or villages. This is another addition to our capabilities and we hope to provide this service next year and on an ongoing basis if possible."

The flight crew includes Captains Pat Madland and Thomas Lindberg, First Officer Josh Havel, Flight Engineers Bill Spencer, Clint Swanson and John Worley, Loadmaster Leonel Lopez and Aircraft Mechanics Travis Blaszak and Dan Spears.

"The cargo on the first two trips to Terra Nova Bay consisted mostly of helicopters. We carried two Squirrel helicopters on each trip. Since then, the cargo has been scientific equipment and food," Pat says. "Although it's exciting to go to Antarctica, Lynden Air Cargo crews are used to flying to remote locations in challenging conditions. Antarctica closely resembles Greenland with its mountainous terrain covered with an ice cap. Much of the continent is around 10,000 feet high although we landed on sea ice runways at sea level. Most of our Lynden crews have been to six continents and it's nice to add the seventh."
Topics from this blog: Lynden Air Cargo Charters Air Specialized International