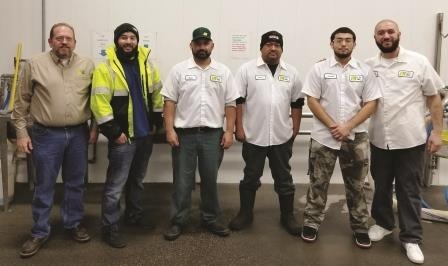 LTI, Inc.'s Sunnyside Wash Bay Crew received a prestigious certification from the Juice Products Association (JPA) for the cleanliness of the tankers Lynden uses for carrying food-grade products. The LTI, Inc. Sunnyside location is now one of only five wash facilities in Washington state to be certified by the JPA and one of only 39 in the U.S. The JPA is a national trade association with manufacturers representing more than 80 percent of U.S. juice producers. The Lynden team put in many hours of hard work to earn the designation.

"We face intense regulatory scrutiny in the way we clean and sterilize our special commodities tanks," says Jeff Harris, Sunnyside Operations Supervisor. "The JPA certification is the gold star of tanker cleanliness. Many companies will only allow their product to be hauled in tankers that have been washed at a JPA-certified facility. We can now proudly say that we are one of those facilities."

From January through November last year, the LTI, Inc. wash bay crew cleaned and sanitized 8,317 tanks in its wash bay plus 1,210 milk tankers. LTI, Inc. is required to carry paperwork for the last three loads each tanker has hauled which dictates the type of wash it receives: a rinse, a detergent rinse or a kosher wash that calls for temperatures up to 203 degrees for sterilization.

Each product a tanker hauls requires a specific type of wash. There is a lot to know, Jeff explains, and with trucks on the road around the clock, washing takes place at all hours. Harvest time is especially hectic for the team when almost all of the company's tankers are in use.

Jeff, along with HSSE Director Anthony Knapp and the wash bay crew, spent four months working on the certification process and producing an 18-chapter manual. The Sunnyside wash bay also had to be prepared for the audit which took many weeks of coordination and physical labor.

Jeff and Anthony consider the wash bay crew unsung heroes for the hard work they do every day. "I couldn't be prouder of Jeff and this team," Anthony says. "They are a multi-talented group of individuals with an outstanding work ethic and keep our equipment spotlessly clean to protect our customers and the public."