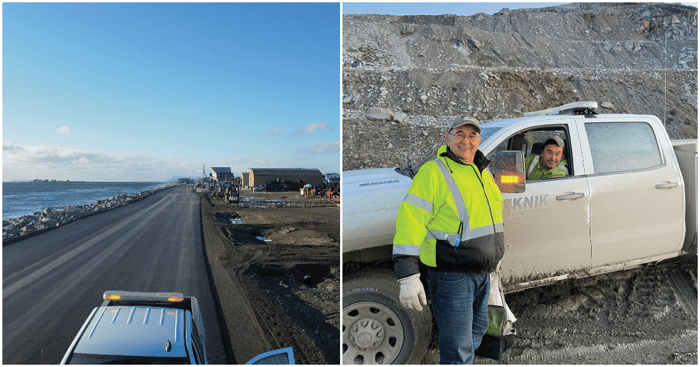 Knik employees at work on the Nome-Council Highway and an after shot of the highway.
Typhoon Merbok, described as one of the region's worst storms in 50 years, hit a stretch of Alaska's western coast late last year. The city of Nome suffered street and road damage and homes were pushed off foundations due to the extreme winds and flooding. As it has in other natural disasters, the Knik Construction team immediately teamed up with the Alaska Department of Transportation to provide expedited repairs for the community prior to winter freeze-up.
"Our Nome airport crew was down to the last three or four people for the season, and they had already closed up the camp when the storm hit," explains Project Manager Doug Dorton. "We quickly decided to bring our employees back and reopen the camp. Because of the availability of our crews and equipment, we assisted the state in getting the breach filled and the Nome-Council Highway opened back up."
Doug was assisted by Project Manager Harold Pelham who spearheaded the Front Street paving and painting, and Superintendent Taco Esquibel who worked countless hours with senior operators on 20 miles of storm-damaged highway.
"The 30-person crew put in long days connecting the road across two ends of the Safety Sound channel. We were able to get to the breach in four days and repair the major damage to the road. We had it back open in two weeks. Truly amazing work. A lot of earth was moved!" Doug says.
The crew's work was centered around mile 16, just past Cape Nome. They faced the biggest challenge where the breach occurred and opened a new waterway between the Safety Sound and Norton Sound.
Campsites were destroyed in Safety Sound, and people were cut off from their camps in Solomon and Council. Knik's speedy work to get the road reopened allowed owners to access, clean up and repair their properties.
"You could see where the family cabins were, and there was nothing but an outline on the ground," says Cynthia Gay, from the Village of Solomon and Human Resources Manager for the Nome School District. "That was devastating. I think that this probably topped quite a few of the other storms we have had."
"Everybody who played a part in this effort deserves recognition," says Calvin Schaeffer, Western District Superintendent of the Department of Transportation and Public Facilities in Nome. Knik crews are ready to respond to any other emergencies the winter season may bring.
Topics from this blog: Knik Construction Featured