Lynden Logistics was voted the top freight forwarder in Logistics Management magazine's 28th annual Quest for Quality Awards. Lynden Transport earned a third place ranking among Less-than-Truckload (LTL) carriers for the Western Region. Lynden Logistics has now placed in the top five freight forwarders for 12 consecutive years, and Lynden Transport has received 15 Quest for Quality Awards (see Lynden's results in the 2010 Quest for Quality Awards).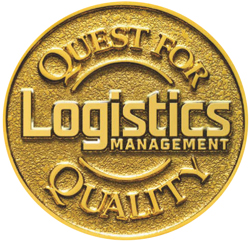 Lynden Logistics received the highest score for on-time performance and high marks for value and customer service. Lynden Transport received the highest score for information technology and one of the highest scores for equipment and operations. Lynden Transport is best known for shipping freight to Alaska from the lower 48 states and Canada.
For almost 30 years, Quest for Quality has been the transportation industry's premier benchmark study for customer satisfaction and performance excellence. Shippers grade carriers on customer service, on-time performance, value, equipment and operations and information technology during the previous year. This year, 4,575 logistics and supply chain decision-makers cast their votes for 111 providers of transportation and logistics services. According to Michael Levans of Logistics Management Magazine, "When you consider the operating environment in which carriers and 3PLs found themselves operating in over the past 12 months, the editorial staff agrees that securing shipper faith and walking away with a Quest for Quality Award in 2011 is a tremendous achievement."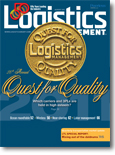 "We are extremely proud of our first-place finish and on-time performance score this year. Our industry revolves around deadlines, and we work hard to make sure that customers' freight is exactly where it needs to be when it needs to be there," says Lynden Logistics President Dave Richardson. "We have launched a company initiative this year to enhance our customer experience and will use the scores from this coveted award to help us get a more accurate view of our service."
"We are honored, once again, to receive a Quest for Quality Award and share the top ranking with our competitors," says Lynden Transport President Jim Beck. "We received the highest score for Information Technology this year which means that our investments in our EZ Commerce System are paying off for customers. EZ Commerce allows customers to manage the freight shipping process online by requesting rate quotes and pickups, track and trace shipments and generate reports and invoices. We have also added GPS tracking and other programs like Dynamic Routing to stay on the cutting edge of developing technology."
Topics from this blog: Lynden Freight Forwarding Awards Lynden Transport Lynden Logistics LTL Truckload