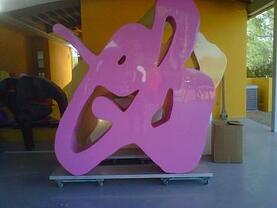 Dave Coles squints into the Arizona sun as he watches a crane operator attach straps to a 40-foot Hapag-Lloyd container. With a whine, the crane's boom slowly lifts the 18,000-pound box off the ground, pivots and carefully places it onto a waiting lowboy trailer. Visible just above the container's rim are the undulating shapes of "Warrior" and "Octopus." Part of the Strange Creatures collection created by internationally known artist Rotraut, the oversized aluminum sculptures are two of seven bound for the port of Los Angeles where they will be loaded onto a ship sailing for Fos Sur Mer, France.
Coles double-checks the container as it is secured for the 375-mile truck trip from Pleasant Valley, AZ to the California coast. It's been six hours of precise loading – sculptures into container and then container onto trailer. Finally, the truck driver pulls away from the parking lot into the residential neighborhood and disappears around the corner.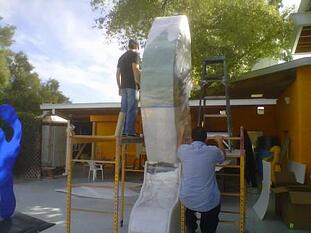 "These moves are always nerve-wracking due to the irreplaceable nature of the cargo," he explains. Coles manages Lynden Logistics' Phoenix office and he says this project took eight weeks of advance planning. "We knew it would be challenging when we went to the studio to measure the sculptures and realized they wouldn't fit neatly into a regular ocean container. Due to their irregular shape, we had to use an Open-Top container and cover the over-height sculptures with a tarp to protect them as they made their way west."
The one-of-a-kind sculptures are just some of the many types of art Lynden Logistics moves for Scottsdale art studio Tete A Tete. The studio and its Director Manuel Luiz count on Lynden's care and attention to detail. "We have worked with Lynden for more than 10 years," Luiz says. "They have done very well and given us peace of mind in shipping our art all over the world." With art moves, the standards are high – and exacting.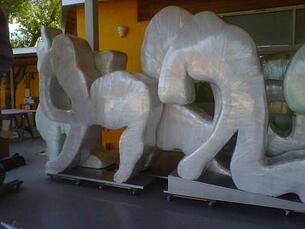 "The artists want what they want. The sculptures and paintings are their babies, and we must treat them accordingly," says Phoenix Sales Manager Paul Till. "The ocean shipment of the sculptures could've been handled in a variety of ways, including loading the pieces onto a flatbed and containerizing them at the LA port, but they wanted to load the pieces into the container themselves at precisely 8 a.m. at the studio."
The studio's request for an Open-Top container had Lynden staff scrambling to locate one at a rail yard and transport it from Los Angeles to Phoenix by the load date. But as Till explains, "It's not always about what's easiest or the most expeditious. It's about listening to the customer and making it work for them."
The paintings and sculptures Lynden ships to France, Switzerland and other locales for Tete A Tete are often valued from $50,000 to $200,000 each and the shipments require detailed knowledge of customs rules and regulations. "We are true experts at export and import documentation," Coles says. "On occasion we have shipped art on a temporary basis for exhibition and arranged for the studio to avoid paying duty tax when the art comes back into the U.S. Those charges can sometimes be as much as $2,000, so our knowledge and experience is an added value for our customers."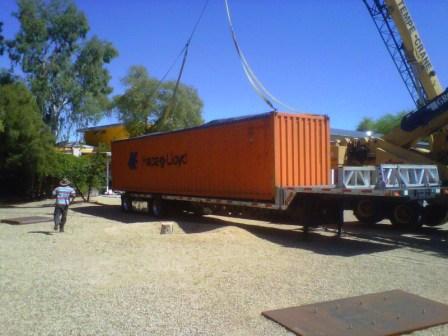 When it comes to choosing ocean or air, many art studios and artists select ocean for shipping heavy, oversized sculptures or multi-media work. And in the past few years, more customers are exploring ocean transport for economic reasons. Lynden offers specialized service and assistance for those new and returning ocean customers. "They can depend on us to take care of it – we will walk them through it and explain everything," Coles explains. "We take a lot of steps and precautions to anticipate things that may happen, and we use carriers we know and trust."
Tete A Tete isn't Lynden's only ocean customer, but the art studio certainly puts the staff through its paces and provides a unique showcase for the multi-modal transportation capabilities of the company. "They throw a lot of challenges our way; a lot of outside-the-box stuff, but we actually look forward to it," Coles says. "Sometimes it requires finding new resources that we aren't used to, but we start talking to people and beating the bushes, and we always manage to make it work. Isn't that Lynden's motto? We make the impossible possible."
Topics from this blog: Lynden Logistics Oversized/Heavy Haul Project Logistics Multi-Modal Ocean International