Captain Chris Caden is a Lynden Air Cargo pilot who recently flew to Haiti as part of the disaster relief logistics efforts. Captain Caden was kind enough to send several paragraphs and pictures describing his experiences in Haiti:
----------
Captain Chris Caden - Haiti Relief Mission Report - 1/14/2010
Everyone at USAID has been super friendly to work with.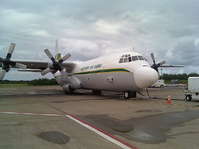 Upon arriving at IAD our crew was replacing the previous crew coming back from Lynden's first flight into PAP, lead by Capt. James Wallace. Loading of our Herc was already in progress when we got to the airplane.
We took off from Washington-Dulles Intl Airport (IAD) at about 4 am for our 4 1/2 hour flight to Port Au Prince (PAP), Haiti. When we began our approach to the airport it was very apparent that we weren't the only ones bringing relief supplies.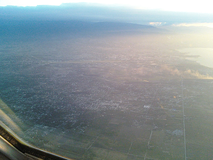 The earthquake had taken out all services at the airport, including radar and ATC (Air Traffic Control) capabilities, which created very difficult conditions for the authorities, but they handled the extraordinary amount of inbound air traffic to Haiti commendably. We were placed number 13 in a list of planes to land and held in a pattern overhead before we diverted to Puerto Plata (POP), Dominican Republic to get more fuel and give it another try. After obtaining clearance to take off and head back to PAP we encountered yet another delay that had us circling overhead PAP again, but we finally landed and offloaded our supplies.
Might I add that the main reason for the delays really isn't because of the lack of radar or modern ATC control, it's the lack of ramp space and movement. PAP's ramp, terminal and taxiway were built to handle a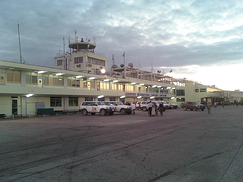 half-dozen flights per hour, and now with relief needs, are tasked with handling 3 times that much traffic. The best way I can describe it is a four-lane interstate highway being cut down to one lane.
The people from USAID met our plane once we parked and off-loaded most everything by hand. As you can imagine forklifts were in great demand with few and far between available. Everything from small helicopters to Boeing 767's were parked tightly on the ramp. The terminal building was abandoned with large visible cracks in the structure and the control tower's windows had all been shattered and busted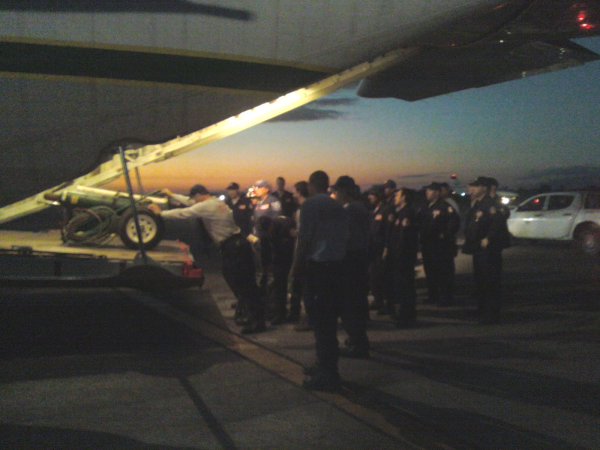 out. The runway, taxiway and ramp all seemed to be in surprisingly good shape, thank goodness. We were on the ground for an hour and 45 minutes before we headed back to POP for fuel and our return trip to Denver.
I'd like to recognize everyone on the Disaster Relief Team in Washington, DC for all their efforts and coordination concerning our flight into Haiti, and I'd like to thank my crew, Randall Sanderson (FO), James Seefeldt (FE), Ted Pederson (MX) and Bob Lesko (LM) for their extraordinary efforts and professionalism. Without their dedication to the job, this simply would not have been a success.


Chris Caden
Captain/Check Airman L-382G
Lynden Air Cargo, LLC


Photos: 1) N405LC waiting in Puerto Plata, Dominican Republic. 2) Aerial view of PAP. 3) Terminal building and control tower in Port Au Prince. 4) USAID personnel offloading cargo in PAP.
----------

To learn more about Lynden's Haiti relief flight involvement, please visit our relief flights information page.
Related Blog Posts:
Relief flights to Haiti: Experiences of Captain James Wallace and the Aircrew of 405
Relief flights to Haiti: Inspirational experience on the ground

Topics from this blog: Lynden Air Cargo Disaster Relief Lynden Employees International