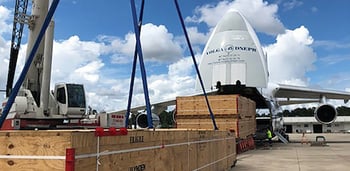 Lynden Logistics chartered two Antonov aircraft to ship fragile tube bundles from Houston to the Kingdom of Bahrain, located just off the eastern coastline of Saudi Arabia in the Persian Gulf. Bahrain is a small archipelago of 33 islands and is seeing a resurgence in oil and gas activity.

According to Lynden Logistics District Manager Diana Martinez, "We began working on this proposal a year ago." Lynden was selected for the job and began the complicated move by picking up eight tube bundles in Beasley, TX and bringing them to the Lynden warehouse for crating.

They were then moved to the airport for loading on the two chartered Antonov AN-124s. Each plane carried four tube bundles, each weighing 50,500 pounds and measuring 44 feet by 13 feet by 5 feet. Total aircraft weight: 202,000 pounds. "The tube bundles are used for heat exchangers and they are extremely fragile. The thin tubing on the inner structure is easily bent," Diana explains. With Lynden's careful handling, the bundles were delivered on time and in perfect condition.