You can imagine the planning and preparation it took to move this 12-foot wide, 11-foot tall bucket from the Lynden Transport yard in Fife to a gold mine in Fairbanks.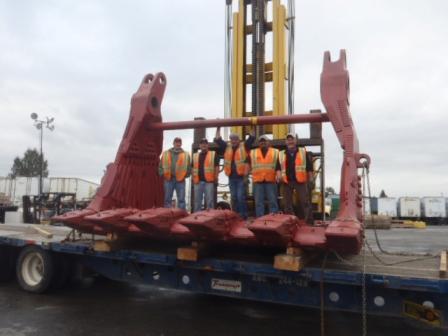 (From left: Lynden Transport employees John Thuney, Jered Nelson, Butch Brocato, Steve Flores and Doug McBride)
The 70,000-pound load required two AH52 heavy duty forklifts for the pick and placement on a trailer and a 4-axle tractor to pull it to TOTE in Tacoma for shipping to Alaska. Driver Tim Logsdon was escorted by a pilot car for the trip to the dock. In Anchorage, pilot cars and oversized permits were again needed along with an Alaska West Express 48-foot, 3-axle steel step deck trailer rated for 40-plus tons. "It took a real team effort to make this happen," says Dane Anderson, Operations Manager in Fife.