Lynden Transport was selected as an Inbound Logistics Top 100 Motor Freight Carrier for 2010. This year was particularly challenging for the editorial staff as they had to select 100 trucking leaders from more than 250 companies that submitted their credentials. The Top 100 list appeared in the September issue of Inbound Logistics.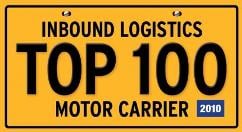 "The Top 100 Motor Carriers list is a good place for transportation buyers to shift gears, slow down, and take a look at a group of truckers that are paving the road for innovation," explains Inbound Logistics magazine Editor Felecia Stratton. "We pared this year's roster from a huge pool of companies, evaluating surveys, conducting online research, and talking with truckers and shippers. Readers use this directory to find carrier partners that will put their company in the driver's seat."
Related Awards:
Lynden Transport was also recently voted the Top LTL Carrier for the Western Region by Logistics Management magazine. Lynden Transport is an industry leader in trucking to Alaska, from Alaska and within Alaska, as well as the Lower 48.
Lynden has been named the 7th top business in Alaska by Alaska Business Monthly.