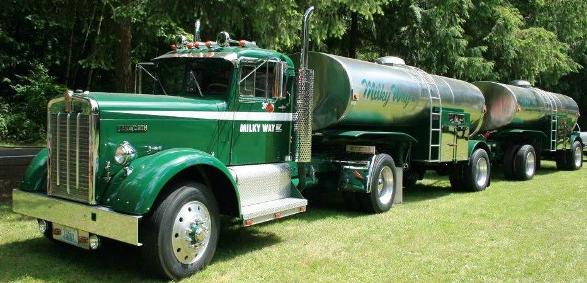 Over the past six months, Guy Jansen has worked with Lynden Tank Company, Steven Blankenforth, Blue Star Welding, Maple Leaf Auto and the Lynden truck shop to restore an iconic Milky Way tractor and a set of double 2,800-gallon farm pickup milk tankers dating from the 1950's. The project was completed in time to join more than 700 antique trucks at the American Truck Historical Society Convention in Yakima, WA this spring.
"We plan to use #39 and its tankers #75B and #77B to support the agricultural communities in our service area by providing potable water and a hand-washing station at county fairs, FFA, 4-H, and similar events," said Milky Way President Brad Williamson. He encourages Lynden employees to think of otherways #39 can be used to support Lynden customers.
This 1956 single-ax Kenworth tractor and double single-axle tankers picked up milk at the Whatcom County dairy farms during the period when the industry was transitioning away from truck tanks to semi-trailers. Each single tanker picked up milk locally and was brought back to Lynden where they were trained up as a set of doubles and pulled through the Darigold plant in Lynden, WA to be topped off. They were then hooked to #39 to deliver full loads to Seattle area processors. Hub DeJong drove for Milky Way from 1949 to 1989 and spent many hours in the cab of #39. According to Guy, Hub and his family got a chance to see the restored rig and it brought back many fond memories.