The 2013 Iditarod - the "Last Great Race on Earth" - officially starts today, March 2nd. Lynden is proud to be a sponsor of two of this year's racers, Pete Kaiser and Mike Williams. Pete is an employee of Bering Marine Corporation, part of the Lynden family of companies, and will be racing for the 4th time. He finished in the Top 10 in both 2012 and 2011. Mike is also sponsored by Lynden, mushing in the Iditarod for the 15th time. He was born and raised in Alaska, and has a son (Mike Williams, Jr.) who will also be competing in this year's race.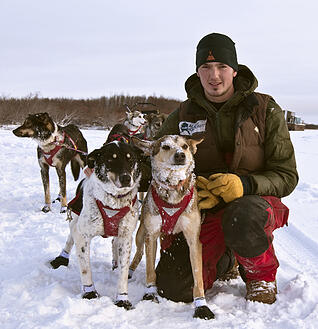 Pete and his dogs
The Iditarod race, the ultimate test against nature, winds over 1,150 miles of difficult terrain throughout rough weather conditions. Mushers will start in Anchorage and ultimately finish in Nome, Alaska. The race typically takes 9-15 days for mushers to finish.
Lynden employees are familiar faces at Alaska sled dog races, volunteering for things such as race announcing, caring for dog teams, and lending other support. You can learn more about the Iditarod and follow along with this year's race by visiting the official website: www.iditarod.com.