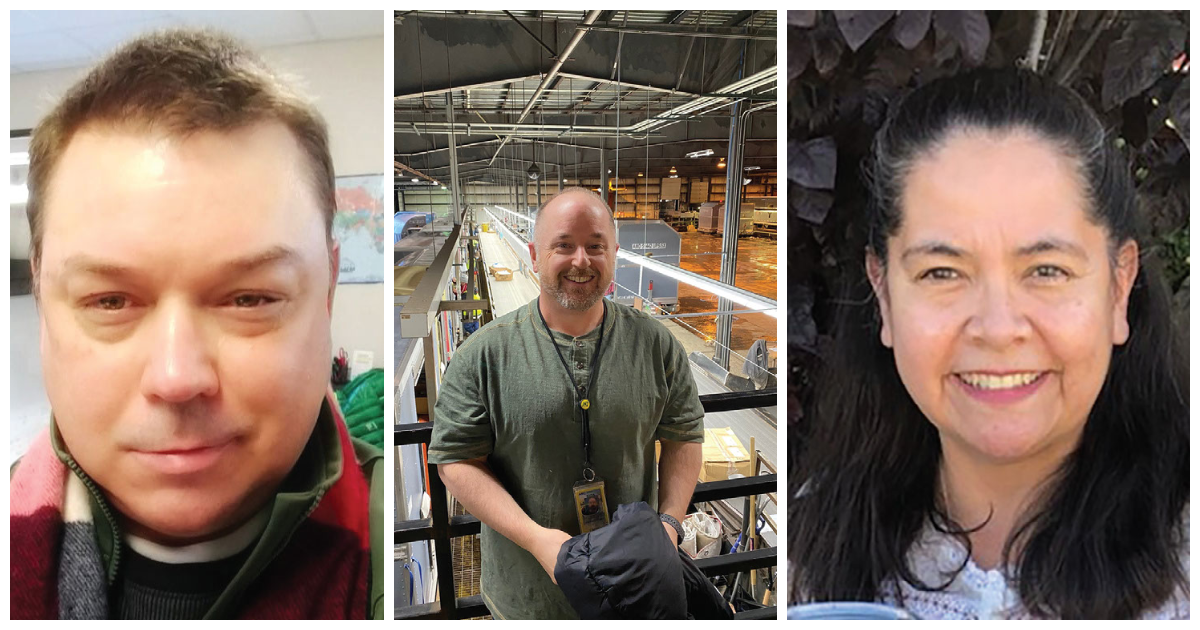 The Lynden brand of customer service follows a decades-old formula: put the customer first and deliver quality. Lynden customers often write in to share stories of this formula in action, personified by employees on the front line.
Above pictured left to right, Lynden Logistics' Anton Kalpakov in Houston, Service Center Manager Brian Crawford at Lynden Projects in Anchorage, and Dora Leon in Los Angeles all received rave reviews for their recent service to customers. Here are their stories.

"I want to express EPCO's extreme gratitude and appreciation for Anton. He has always provided excellent service, and his management of EPCO's recent shipment of eight vacuum trucks was exceptional," writes William Kulsky of EPCO. The shipment became a very complex and convoluted transaction involving multiple transfers and ocean shipping. Customs, export compliance and temporary importation and in-bond export from Canada via Philadelphia was required. According to Kulsky, documentation and insurance for each movement was unlike anything EPCO had done previously. "We had several surprises including units malfunctioning on the dock, and the vessel crashing and denting a unit at sea. In every instance, planned and otherwise, Anton provided timely information and guidance and always with calm professionalism. Lynden has been a reliable partner for EPCO for many years," he writes. "We respect Anton's diligence and industry expertise, and we recognize he contributed to EPCO's successful delivery."

"Brian has saved the day for me on two occasions," writes Jennifer Smith of Kaktovik, AK. "Both times, I've been impressed by his command of the carrier network serving this region, his friendly professionalism when dealing with a problem situation, his courteous status updates as he works to solve the problem, and his responsive results." A month after placing an order for an air purifier from Amazon, Jennifer was still waiting for it. "I checked my notes for the name of that helpful guy who found my missing computer monitor back in 2015, and it was Brian," she writes. She called him and, within days, the air purifier was delivered. The box was on a shelf mixed in with mail. "I hope that Brian is recognized and valued for the exceptional service he provides."

Dora Leon made some football fans mighty happy this winter by making special arrangements for a delivery. "I wanted to send you a quick note to thank you for your assistance with our San Francisco 49er promotional project prior to the Packers game in Green Bay," writes Bill Thilken of Billy Tees in Orange County, CA. "Dora overcame a number of roadblocks and had 21 boxes of Niners blankets delivered to their destination on time." The overnight shipment was scheduled to arrive a day prior to the game, but after flight cancellations to Milwaukee, Bill was informed that the shipment would not reach Lambeau Field until right before game time, missing the 49er Fan Engagement event. Dora and her team didn't give up, rerouting the shipment through Chicago and arranging for a truck to meet the freight and drive it directly to Green Bay at 12:30 a.m. "I was ecstatic, the event went off as planned, and her efforts saved me thousands of dollars had the shipment been refused," Bill writes. "The 49ers organization and fans were thrilled, and the Niners beat the Packers to cap it off. The last minute heroics on the field were equally matched by Dora and her team at Lynden."
Topics from this blog: Lynden Lynden Employees Lynden Logistics