After 30 years of service, Alaska Marine Lines' Ketchikan barge ramp has moved to Petersburg. In its place is a new port cargo ramp constructed by Western Towboat. "We are excited to have a new ramp in Ketchikan and also happy to provide Petersburg with the first cargo ramp ever installed at that port," says Southeast Alaska Marine Operations Manager Ricky Morgan. Removing the old ramp and installing the new one was a two-week process and included seven days of repairing and repainting the existing floatation tank system.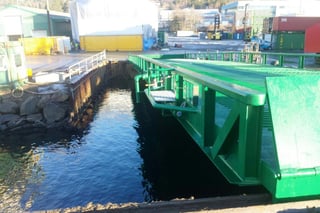 Both ramps are 120 feet long and 24 feet wide. The Ketchikan ramp operates by an onshore air supply system which supplies air to a flotation tank bolted to the ramp. The beach end pivots at the abutment connection. "The new ramp has a refined and stronger barge end transition design," Ricky explains. "The old design put the ramp surface about 16 inches above the barge deck when the ramp was set in place on the barge. This required an additional wedge transition piece to be set in place to allow forklift access." The new design has closed that gap to only 4 inches and it features a small transition plate, fixed to the end of the ramp by a hinge.
Petersburg's ramp project was completed in April. The Petersburg crew is working on repairs and fabricating modifications to change it from a flotation support to an A-frame design. The ramp will also be sandblasted and painted.
According to Ricky, the Petersburg operation has been a "pass/pass" operation for many years. "With the cargo ramp installation, we have to reconfigure the dock face pilings and install a pedestal and electrical system for the A-frame." A large concrete abutment must also be installed to anchor the ramp into the beach. "Having a fully operational cargo ramp in Petersburg should greatly increase productivity and operational efficiencies," he says.
Ricky recognized the Ketchikan and Petersburg operations groups for their assistance with the project as well as Western Towboat for fabrication of the new ramp and A-frame. He also commended the Ocean Navigator Crew for their assistance with transporting both ramps to their new homes. "Special thanks to Gary Peterson, Rick McKinley, Rex Mansfield and Tom Sheehan, our expert team of crane operators, who executed safe precision while removing and installing the extremely heavy ramp system in Ketchikan," he added. "And to Gordon Lindblad, who orchestrated every detail of this project, from start to finish, safely and efficiently."