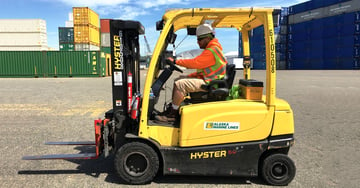 "Lynden's Green Initiative grew out of a depression era distaste for waste and a common sense desire to do what's right," says Coordinator Anna Deal. "Now, 10 years later, I am truly amazed at what we have accomplished together." The 10-year mark coincides with Lynden being named one of the top 75 Green Supply Chain partners for 2018 by Inbound Logistics magazine. It is Lynden's eighth award.

"Lynden's operating companies have continued to invest in modern high efficiency equipment to increase payload and reduce idle time, work with drivers to improve driving habits, and to look for innovative ways to improve freight operations. These efforts have paid off with the steady and measurable improvement in our freight efficiency and reduced emissions," Anna explains. "We are doing more with less at all levels."
Anna shared the additional Green Initiative accomplishments throughout the companies:
Our new facilities are designed to be energy efficient and we continue to upgrade lighting and heating systems across companies. We have invested in over 60 separate energy efficiency projects which have saved nearly 1,900 metric tons of CO2, 3,535 MWh of electricity, and 4,430 MMbtu of natural gas annually.
We have replaced our highest use propane forklifts with electric lifts leading to a 32% reduction in Lynden's small lift emissions.
We have initiated recycling programs at each of the Lynden locations and, along with our Alaskans for Litter Prevention and Recycling (ALPAR) partners, backhaul recyclables free of charge from Alaskan communities to Seattle for recycling.
Computer power saving software that automatically puts computers to "sleep" when not in use has reduced those energy costs by 20 percent.
Lynden's Green and Fit Challenge rewards employees for alternative transportation in their work commute and fitness activities.
"Although we have accomplished a great deal, we know there is more we can do," Anna says. "We recently encouraged all employees to provide feedback and ideas so we can keep the momentum going that we started 10 years ago. The Green Initiative was, and is, a company-wide effort. Our accomplishments are the results of the hard work, talent and passion of Lynden's highly dedicated employees."
Topics from this blog: Lynden Awards Green Lynden