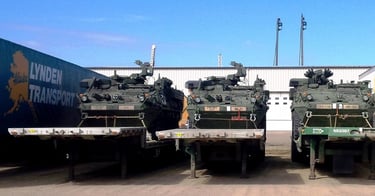 Lynden companies have served the government and the Department of Defense (DOD) for decades by providing reliable transportation services, emergency aid, logistics planning and more via air, land and sea. "We offer one of the most logistically diverse transportation services in the world. From flying weekly missions to air bases in Germany and Japan, to mobilizing shipments for Operation Enduring Freedom and Federal Emergency Management Agency (FEMA) disaster response, we understand the unique challenges and deadlines of military and government projects," says Eric Wilson, Lynden Transport's Director of Pricing in Seattle. Lynden has a Government team to ensure military projects are efficiently planned and executed. Each member of the group has military clearance to view project websites and bid on jobs.

"Alaska Marine Lines is taking on more military moves in both Alaska and Hawaii, and Lynden Transport is serving the military on moves to, from and within Alaska installations," explains Jim Earl, Sales Manager at Alaska West Express. Lynden Transport is approved by both the U.S. and Canada as a DOD carrier, and recently handled 80 loads from Fairbanks, AK, to Canadian Forces Base (CFB) Wainwright, approximately 100 miles from Edmonton within a two-week deadline. Alaska Marine Lines is a Universal Services Contract (USC-8) approved carrier for the military's Surface Deployment and Distribution Command (SDDC) and handles moves to and from Alaska and Hawaii. Alaska West Express continues to provide specialized hauling in both the Lower 48 and Alaska with dual drivers and satellite tracking for sensitive shipments.

Other Lynden companies have also provided support to government needs. Lynden Logistics has been assisting government and non-government organizations with transportation and logistics in West Africa since the Ebola crisis in 2014. Lynden Air Cargo has conducted flights through Diplomat Freight Services (DFS), FEMA, the Red Cross and other supporting agencies and governments to bring in food, water, trucks, fuel and other disaster response supplies to ravaged areas.

To learn more about Lynden's military and government capabilities, please view our brochure at www.lynden.com/about/brochures/Government_Military.pdf or contact our team at information@lynden.com.