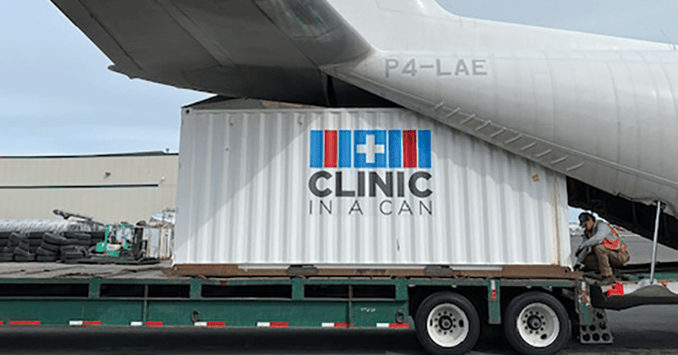 Lynden Air Cargo delivered a mobile medical facility, called "Clinic in a Can," to Western Alaska this fall bringing much-needed medical services to the small community of Naknek. Pictured to the right, Clinic in a Can is the brainchild of a doctor who began repurposing 20-foot containers as emergency medical clinics for third-world countries. Ethan Bradford, Lynden Air Cargo's Vice President of Technical Operations, put the project together.

Alaska West Express transported the mobile clinic from Wichita, KS to Tacoma where it moved via ship to Anchorage. Lynden Air Cargo took the last leg to King Salmon's Camai Community Health Center. "Protecting workers, Alaskans and our communities during the fishing season and year-round continues to be an important challenge in our state's COVID response," explains Mary Swain, Executive Director of the Camai Health Center. "We received grant money to purchase the mobile clinic, and we can transport it to wherever it is needed most." The clinic has proven so effective, she has requested two more to serve the region. "This was a good One Lynden door-to-door move from Wichita to Naknek," says Matt Jolly, Vice President of Sales and Pricing for Alaska West Express.

In another recent project, the Lynden companies worked together to transport two oversized turbines, one from Houston, the second from Kenai, to Prudhoe Bay, AK. Lynden Logistics coordinated the transportation, which involved a charter flight on Lynden Air Cargo to Anchorage then truck delivery via Lynden Oilfield Services to two North Slope destinations.