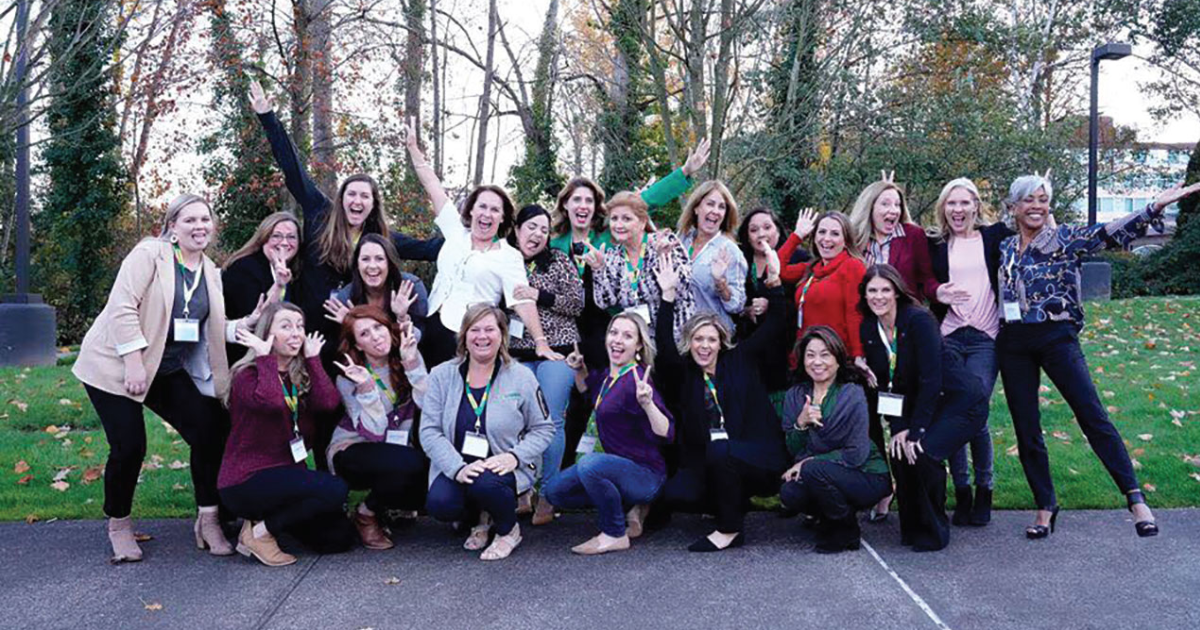 International Women's Day is March 8, and during the month of March women are being recognized for their social, economic, cultural and political achievements. "This is a great time to focus on some of Lynden's female leaders and their unique contributions," says Vice President of Employee Relations and Business Development Gail Knapp.

From behind the steering wheel to under the chassis, Lynden's female drivers, pilots, mechanics, executives, accountants and others make up a talented workforce that is growing each year. The transportation industry has traditionally attracted more men, but that is changing. Natalie Stephenson worked her way up from an accountant 32 years ago to her current position of Vice President and Controller. "It's important to provide opportunities so more women can become leaders and learn how to contribute their views and think strategically to make Lynden an even better company," she says.

Gail Knapp and Judy McKenzie were Lynden's first female operating company presidents, Gail for Alaska Marine Lines and Judy for Lynden Air Cargo. "When I started working for Lynden in the early 1980s the company was smaller," Gail says.

"There were many meetings where I was the only woman in the room. Today, women have a seat at the table, but there is always room to grow. I tell female colleagues to seek opportunities to move up and learn more. Don't be afraid to put your hand up and hold your head high."

"At the beginning of my career in the '90s, most of my colleagues were men. Now it's closer to 50/50," says Stephanie Littleton, Lynden's Vice President of Taxes, "and both vice presidents who preceded me at Lynden were women."

Michelle Fabry is the only woman in Alaska working as a Director of Safety for a part 121 air operator. She is also Lynden Air Cargo's first female Director of Safety. "In the past I have felt I had to work harder to prove that I was capable of accomplishing a job primarily done by men," she says. "This motivated me to study more, network and take training beyond the minimum standards. Now I focus on integrity. Sometimes this means being wrong and admitting that, but at the end of the day, your word should have meaning."

Lynden Logistics Manager Becky MacDonald has watched opportunities for women change drastically over the past 30 years. "When I first started out as a cook on tugboats at age 18, I was one of two women and we weren't allowed to go on certain voyages as they were 'too long.' Now, there are female captains," she says.

Cary Lukes has served on Lynden's Board of Directors since 2012. She also worked for LTI, Inc. and spent summers in Bush Alaska with Knik employees. "I'm proud that the brilliant, hard-working women of Lynden are being honored in March and every month," she says.

Leadership at Lynden Service Centers is trending female, including Dani Camden in Anchorage, Jennifer Parker in San Francisco, Sheri Harris in Houston and Kristina Jordan in Seattle. "When I think of how things are changing, I think of the women who have gone before us," Kristina says. "My guide was always Laura Sanders. Watching her career let me know that I was good enough to reach for the top positions in the company." Lynden Vice President and Controller Stacey Sunderland says transportation is still a male-dominated industry so women need to be confident and strong. "As more women move into higher roles at organizations, it encourages and motivates others to reach those levels."
Topics from this blog: Lynden LTI Inc. Lynden Air Cargo Lynden Employees Lynden Logistics Knik Construction AML