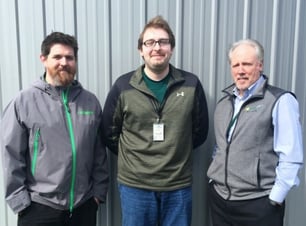 Over the 17 years that Lynden Logistics Senior Account Executive Randy Main has been working with customers, he has handled many emergency shipments. "Every so often we get a shipment with a story behind it and a face behind the package," he says. In this case, it was a pharmaceutical shipment for McKesson, a long-time Lynden customer.

McKesson's Distribution Center Manager Jonathan Burke wrote a letter about Randy's customer service and extraordinary efforts to ensure a lifesaving drug reached critically ill patients in Kotzebue, AK. "I looked up flights going to Kotzebue and the only one was leaving that afternoon," Jon writes. "I immediately reached out to Randy and asked if we could somehow get this drug on that flight. Within minutes of the call, Randy arrived to pick up the package and was on the phone to see what he could do to get the package tendered on Alaska Airlines. Through his efforts, he was able to hold the plane and get the package onboard."

With only minutes until departure and well past the carrier's cutoff, Lynden's Owen Mitchell and Matt Kelly started the paperwork while Main contacted the flight crew to ask if they could coordinate an after-hours handoff with the hospital in Kotzebue. Hours later, the life-saving medication arrived and was administered to the patient, a baby suffering from meningitis, and other children in the household. "I am deeply grateful to have Randy as our account manager who showed great heroism on our behalf," Jonathan says.

"We have so many pharmaceutical shipments going out each morning and each one could potentially contain life-saving medication," Randy explains. "With more than 30 shipments a day, we contend with the daily challenge of limited flights and carrier options, weather delays, and a variety of seasonal issues. McKesson was in a tough situation, and I'm glad that we could help along with our partners at Alaska Airlines who held the plane and allowed the freight to be tendered past the normal cutoff period. Alaska can be a challenging place to live and work. I'm proud of our Lynden team for the role they played in recognizing the need and going above and beyond to help."
Topics from this blog: Lynden Employees Alaska Lynden Logistics